WASHINGTON – U.S. Senator Tommy Tuberville (R-AL) joined 'Fox News Primetime' to discuss the need for answers from upcoming Senate Armed Services Committee hearings regarding President Biden's disastrous exit from Afghanistan. Earlier this week, Senator Tuberville led 10 of his committee colleagues calling for testimony from senior military leaders, including Secretary of Defense Lloyd Austin, Chairman of the Joint Chiefs of Staff General Mark Milley, Commander of U.S. Central Command General Frank McKenzie, Jr., and the final commander of U.S. Forces Afghanistan, General A. Scott Miller. Yesterday, the Senate Armed Services Committee announced several hearings on the topic, including one with Secretary Austin, General Milley, and General McKenzie.
Excerpts from Senator Tuberville's interview can be found below, and the full interview can be found here.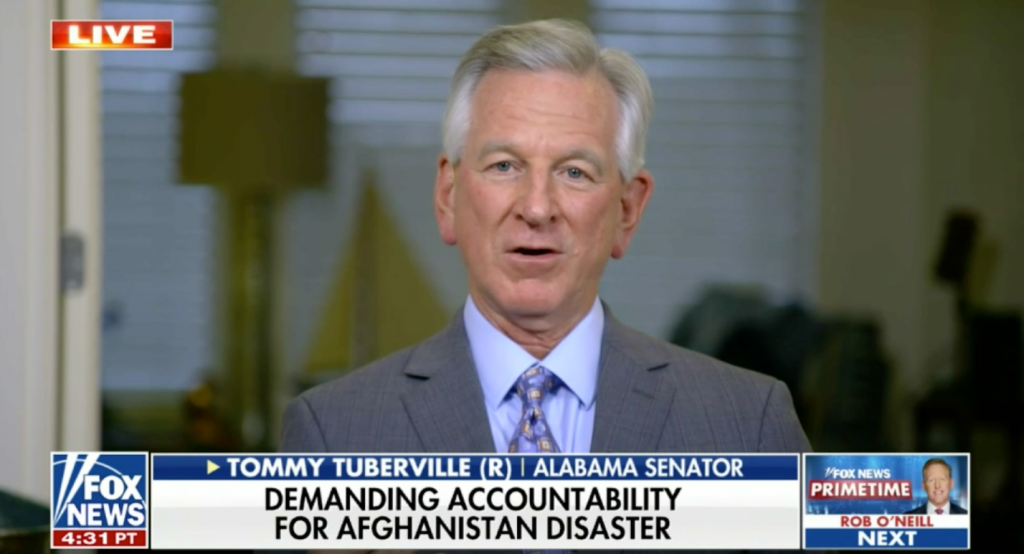 On Demanding Answers about Afghanistan:
TUBERVILLE: "…Everywhere I go everybody is wanting to know 'What the heck happened?' 'Who made these decisions?' Was it a political decision made by the State Department or was it a military decision made by our generals? Everybody is asking that question and we can't get a direct answer so I wrote a letter to Chairman Reed…and asked that we have hearings and that will be next week. So, we will get some answers, hopefully, but this has been a debacle from day one. We can't get straight answers. The American people who pay the bills deserve answers."
On Asking the Hard Questions:
TUBERVILLE: "We have got to…make sure we ask the right questions. If you look at all the hearings or the questions that have been answered from the State Department and the military, they all have been just basic questions and answers, nobody has asked the hard questions. That's what we will do."
On Holding Leaders Accountable:
TUBERVILLE: "This is not the military's fault. This is our leaders' fault, whether it's the State Department or a general, somebody is at fault and we need to find out who is behind all the problems that we had the last couple of weeks."

Senator Tommy Tuberville represents Alabama in the United States Senate and is a member of the Senate Armed Services, Agriculture, Veterans' Affairs, and HELP Committees.
###