"We've got a group of people that want biological boys to have the opportunity to compete against girls. It's not fair, it's not safe, and it's wrong."
WASHINGTON — U.S. Senator Tommy Tuberville (R-AL) joined Morning in America on NewsNation to continue his push to protect female athletes from unfair and unsafe competition against biological males. Senator Tuberville explained how his Protection of Women and Girls in Sports Act, which he reintroduced earlier this month, would preserve the Title IX protections that created a level playing field and opportunities for female athletes for more than 50 years. He also weighed in on the recent controversy surrounding the Vermont Principals' Association (VPA) decision to ban a high school girls' team from competing in future tournaments over the team's refusal to play an opposing team with a biological male athlete.
Excerpts from Senator Tuberville's interview can be found below, and the full conversation can be viewed here.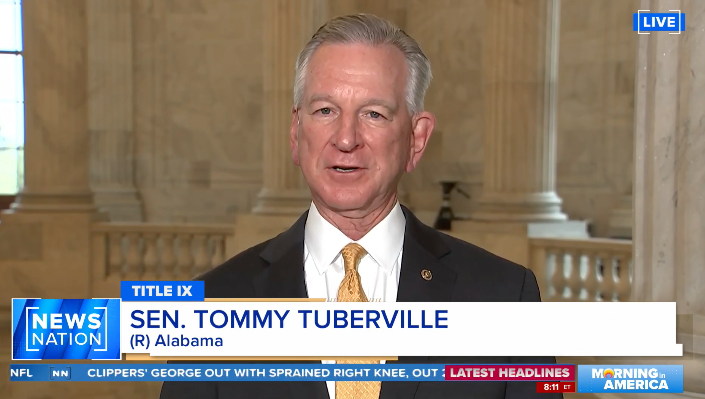 ON SUCCESS OF TITLE IX:
TUBERVILLE: "The one thing that I've noticed that's come from the federal government in the last 50 years that's actually worked is Title IX. It's given young girls and women the opportunity to compete on the same level as men in terms of facilities and funding and scholarships. The increase in the success of women and girls in sports has been phenomenal. It did exactly what we wanted it to do. But now, for some reason, we've got a group of people that want biological boys to have the opportunity to compete against girls. It's not fair, it's not safe, and it's wrong. We've got to come to a realization that there's a difference physically with men and women playing and participating against each other."
ON IMPORTANCE OF PRESERVING TITLE IX
TUBERVILLE: "I've been in this profession for a long time, and I've seen the effects, and the increases, and the success women and girls have had. And to tear that down through taking away some opportunities from young girls to have athletic scholarships makes no sense. In 20 years, biological boys participating in women's sports have won 28 national championships in college. There's 28 girls that had the opportunity and worked all their life to have success, but really at the end of the day, they were playing for second or third."
ON VPA BANNING MID VERMONT CHRISTIAN SCHOOL FROM FUTURE TOURNAMENTS
TUBERVILLE: "If you look this past week, [a] Vermont Christian School said, 'We're not going to participate against another team in a tournament because they got a biological boy playing.'…Now they've been banned from playing in any tournaments. So, for one person to do something, but then you've got a group of girls that's worked all their life to have an opportunity to do something…now they're being punished. We've got to come up with a solution for this, and again, the solution is not for biological boys to be able to participate against women when we know it's not fair."
BACKGROUND
Last year, on the 50th anniversary of Title IX's enactment, the U.S. Department of Education issued a proposed rule to allow biological males to compete in women's sports. Senator Tuberville offered a public comment to the proposed rule, citing his concern about the negative implications it would cause forfemale athletes. The department proceeded forward with its decision to finalize the rule, which is now expected to be published in May of this year. It is expected that the rule will take effect during the 2023-2024 school year.
As a former educator, mentor, and coach for more than 40 years, Senator Tuberville is concerned about the future of girls' and women's sports. He began his career coaching high school girls' basketball shortly after the enactment of Title IX, and witnessed the law's positive impacts firsthand. Senator Tuberville has been a vocal advocate of preserving Title IX and urged ED officials to keep the protections in place. More information about the Senator's efforts regarding Title IX can be found below.
Senator Tommy Tuberville represents Alabama in the United States Senate and is a member of the Senate Armed Services, Agriculture, Veterans' Affairs, and HELP Committees.
###