Bill would prohibit Biden plan requiring financial institutions to report transactions of $600 or greater to the IRS
WASHINGTON – U.S. Senator Tommy Tuberville (R-AL) today announced a new bill to proactively block President Biden's proposal for the Internal Revenue Service (IRS) to monitor every financial transaction of $600 or more made by Americans. Senator Tuberville appeared on Fox Business's 'Mornings with Maria' to talk about his legislation, the Protecting Financial Privacy Act, which would prohibit the IRS from requiring financial institutions to report the financial transaction data of their customers in addition to what is already required by the Bank Secrecy Act.
Excerpts from Senator Tuberville's interview can be found below, and the full interview can be found here.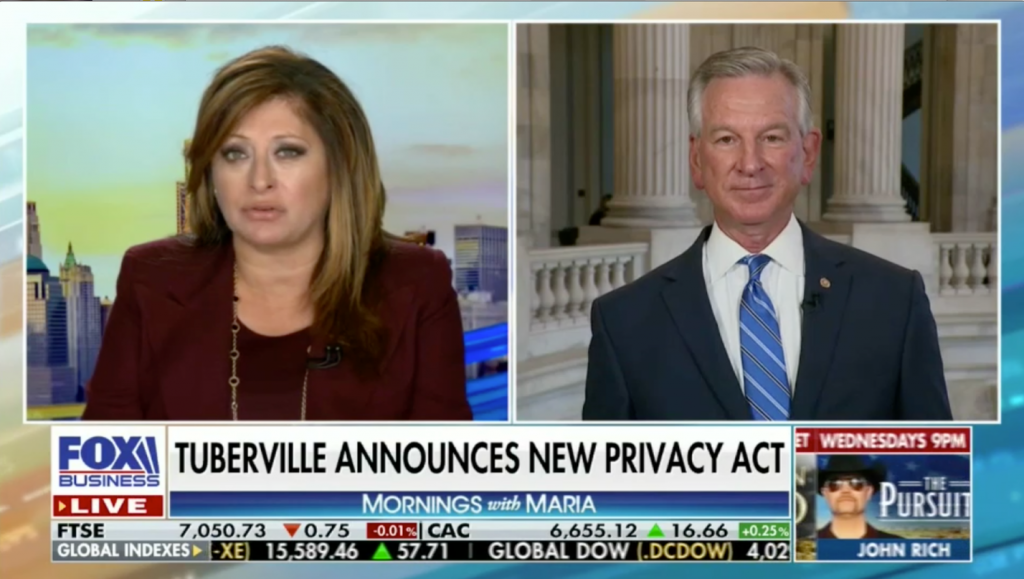 TUBERVILLE: "…And right now, they [IRS] can find out every $10,000 you spend, but now they want to move it all the way down to $600, to $600 dollars. And if you go out and buy a wedding dress for your daughter, or if you go buy a gun to go hunting, if you buy plane tickets, they're going to know everything you do. And they [IRS] cannot keep a secret – they will release all your records to the media or whoever…Today, I am dropping a bill on the floor, just in a few hours, it's the Protect the Financial Privacy Act….The American people don't need the IRS in their business any more than what they are."
"…And what they [Democrats] want to do is tax the American people, the farmers, the people in rural areas. But to make up for that they want to give the SALT reductions in terms of the limousine liberals in New York and California and give them the right to write off things to where they don't have to pay as much taxes."
Background on the Protecting Financial Privacy Act:
Democrats are considering the inclusion of a provision, proposed by President Biden, in their upcoming reconciliation bill that would increase the surveillance capacity of the Internal Revenue Service (IRS) by mandating that banks, credit unions, and other financial services providers report each time one of their business or personal account customers makes a financial transaction of $600 or greater. Such financial transactions include the payment of a bill, a deposit, a withdrawal, a transfer of funds, or the purchase of a security. The inclusion of this provision in the reconciliation package would serve as a budget offset for a state and local tax deduction cap increase that would benefit wealthy Americans living in high tax blue states at the expense of every American who values financial privacy.
The Protecting Financial Privacy Act would prohibit the IRS or any other federal agency from creating, implementing, or administering a financial reporting regime that would require financial institutions or individuals to report data on financial transactions or account balances to the IRS in addition to what is already required by the Bank Secrecy Act. Currently, financial institutions are only required to report cash transactions of $10,000 or more to the Treasury Department.
The IRS has a long history of data security failures and political bias towards conservative groups and individuals. Providing the IRS with additional financial transaction data will make it easier for them to weaponize taxpayer information while also inflicting a hefty regulatory and compliance burden on community banks and credit unions, which have limited budgets and staff. As a result, many locally owned financial institutions could be forced to close if they are unable to comply with the proposed reporting requirements. Community bank and credit union closures would have severe negative impacts on the main street Americans and small businesses they serve.
Senator Tommy Tuberville represents Alabama in the United States Senate and is a member of the Senate Armed Services, Agriculture, Veterans' Affairs, and HELP Committees.
###