Tuberville stressed the importance of resources for Alabama's rural communities in the 2023 Farm Bill
WASHINGTON — In a Senate Agriculture Committee hearing today focused on reviewing the oversight enforcement and implementation of programs through the U.S Department of Agriculture (USDA), U.S. Senator Tommy Tuberville (R-AL) spoke with U.S. Secretary of Agriculture Tom Vilsack about rural broadband, the poultry industry, export markets for agriculture products, and access to financing for farmers and producers. Senator Tuberville and his colleagues also discussed the 2023 Farm Bill, rising farm input costs, and conservation programs.
Senator Tuberville opened his remarks with the following statement:
"Alabama's hardworking farmers and producers continue to face an uphill battle as they work to feed our nation. Inflation is skyrocketing and input costs continue to rise for feed, fuel, fertilizer, and equipment — which cut producers' bottom lines. Bottom line: we're struggling. Despite producers' daily struggles to operate their farms and maintain their livelihoods, this administration is not seeking to help. From my viewpoint, the USDA is only focusing on two areas: issuing increases in SNAP and obsessing over climate change. This Farm Bill will have a price tag of over $1.4 trillion, with over $1.2 trillion of it going to SNAP benefits. We cannot lose sight of the importance of this Farm Bill, for the next five years, for our farmers and producers all across our country. Our producers need a strong Farm Bill with sufficient funding for crop insurance and farm safety net programs like ARC and PLC that keep our hardworking famers whole. We must ensure each producer remains in charge of what operations occur within their own farmland and forestland. All conservation programs must remain voluntary, market-driven, and incentive based."
Excerpts from Senator Tuberville's line of questioning can be found below, and the full video can be found here.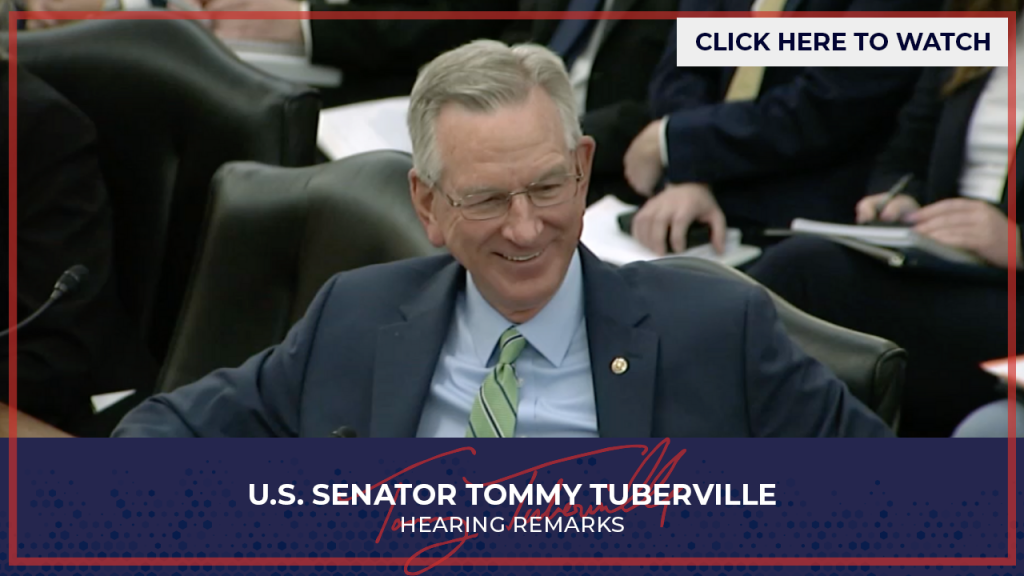 ON RURAL BROADBAND:
TUBERVILLE: "Mr. Secretary, in Alabama, 55 out of our [67] counties are considered rural, and many of those lack access to sufficient broadband internet. Broadband access is crucial to stimulating economic growth, providing new opportunities, and ensuring our rural communities are not left behind. The ReConnect program has been a successful tool to deploy broadband to rural areas. To date, ReConnect has awarded more than $3 billion over four rounds of funding. It sounds like it's more than just a pilot program at this point. Does the Rural Utilities Service (RUS) have any metrics to track the performance of this program?"
VILSACK: "Yes, they have an extensive effort. I asked this question of my team recently. There is an extensive follow through with the implementation and expansion of opportunity that ReConnect provides. Now understand, Senator, ReConnect is with existing programs that basically encourages higher upload and download speeds. In other words, it improves existing programs. It doesn't address the issue of unserved areas. That issue is going to be addressed by the Commerce Department and the FCC once the maps of states are finalized and approved, that show where the underserved areas are. There's roughly $63 million from the infrastructure law that will go into serving and meeting that unmet need. But right now, we are focused on improving the service that does exist and we, as you pointed out, we have approved a number of projects. There will be another round of approvals and awards here coming up in the next couple of months."
ON POULTRY AND HIGHLY PATHOGENIC AVIAN INFLUENZA (HPAI):
TUBERVILLE: "The poultry industry is a crucial economic driver for my state as it represents 65% of Alabama's agricultural income and provides 86,000 jobs. Considering the U.S. exports approximately 18% of chicken meat production – which is valued at over $4 billion annually – we must maintain strong trade agreements and our export markets. I am concerned about HPAI vaccine mandates impacting those markets as most nations do not accept imports from vaccinating countries. It is my understanding that the use of a HPAI vaccine will not eliminate or eradicate the virus – similar to the COVID-19 vaccine. Since a vaccine will not keep birds from getting the virus or eradicate the virus from the U.S., do you think it is a useful tool?"
VILSACK: "At the present time there is no vaccine for the current HPAI virus. There are a number of vaccines that are in the process of being developed. There is a long way to go, Senator, before we can say we have a vaccine. Then there's additional steps that have to be taken in order to determine the impact and effect of a vaccine on the ability to sell product overseas. There are a number of countries that will basically shut off exports if the meat has been vaccinated, if the poultry has been vaccinated. So, I think there's a process there. But we're a long way away from having a vaccine that is effective and a long way from having a vaccine that the rest of the world accepts."
ON ACCESS TO CAPITAL:
TUBERVILLE: "I hear concerns from my farmers in Alabama, especially poultry farmers, lacking sufficient access to financing. To build a 4-house poultry farm in Alabama today, the cost would exceed $2 million. However, the FSA guarantee loan limit is capped at $1.75 million. This presents a significant problem for our young farmers and people that want to get into poultry. Do you think we should increase caps for guaranteed loan size limits?"
VILSACK: "I think it's important to provide the Department with as much flexibility as possible to try to meet the need as it evolves, not only in this area, but very specifically in the disaster. I know it's not part of your question, but I think it's important for us to have enough flexibility to be able to use disaster programs creatively when we're faced with a megadrought or faced with circumstances that weren't anticipated when you all passed a Farm Bill."
TUBERVILLE: "Do you have a limit in mind?"
VILSACK: "I don't. But I'll tell you what, we'll let us think about that and we'll get back to you."
TUBERVILLE: "Thank you because we are struggling."
VILSACK: "The problem with the limit is that, eventually you get to a point where the limit is too low."
TUBERVILLE: "Oh, I understand. Inflation. Right."
VILSACK: "Well, its inflation, but it's also the cost of the size of operations. I mean, it's there's a multitude of factors. And our focus, frankly, is on making sure that when you make that expenditure, that you got a fair shake with the integrator. And so that the rug isn't pulled out from under you, which is why we're looking at the Packers and Stockyards Act."
ON ACCESS TO CAPITAL EXPORT PROGRAMS:
TUBERVILLE: "I was disappointed to hear that the U.S. is expected to have a trade deficit of $14.5 billion in agriculture last year. I believe we need to support our producers in opening new markets, and we talked about that earlier. I understand that because of changes made to the Export Credit Guarantee Program (the GSM-102 program), our ag exporters are using that program less. In light of this, what is USDA doing to ensure our producers have the ability and access to financing options to export their products?"
VILSACK: "Actually, if you're talking about the GSM-102 program, we actually did adjust those limits. We were under a restriction based on a resolution of the case involving Brazil. And it's retaliation against the U.S. in a cotton case. But we recently amended that program to comply with the Nairobi protocols, which provides greater access. And that program is actually being used. I believe it's actually being used more than it was before, but we can check on that."
ON FOSSIL FUELS:
TUBERVILLE: "President Biden said in the State of the Union that we're going to be done with fossil fuels in ten years. My farmers are asking me, are we going to start getting tax credits for farm equipment, manufacturers going to start getting tax credits for making a non-fossil fuel machine? We don't need to start thinking about that eight years from now. We need to start thinking about that now. What's your thoughts on that?"
VILSACK: "I'm interested in making sure that we have resources available to farmers. And that machinery that is available is not just available to folks who have large scale production systems. I was pretty struck by the work that's now being done to try to miniaturize some of this farm equipment. I think we're going to continue to have a need for farm equipment that operates in a way that farmers can use. And I'm not sure that we're not going to see the end of combustion engines for a while. I mean, with all due respect, just don't think that's going to happen. And I don't remember him saying that in the State of the Union address, but maybe he did. Maybe, I just wasn't paying attention."
TUBERVILLE: "I heard it. I was sitting pretty close, and I heard it. Thank you, Mr. Secretary. Thank you, Madam."
Senator Tommy Tuberville represents Alabama in the United States Senate and is a member of the Senate Armed Services, Agriculture, Veterans' Affairs, and HELP Committees.
###