'The American people need to be aware of how the Chinese Communist Party is coming after us, not just with missiles and military might, but with plans to subdue the American spirit.'
'The Chinese Communist Party has continually spied on its citizens, violently suppressed dissent and systematically persecuted religious and ethnic minorities to the point of genocide.'
'To finish the job, I sincerely hope President Biden will continue to build on the Trump administration's momentum in pushing back against China's aggressive rise.'
WASHINGTON – U.S. Senator Tommy Tuberville (R-AL) today delivered remarks on the Floor of the United States Senate detailing China's non-military threats to U.S. interests both at home and abroad.
Excerpts from his remarks can be found below, and the full speech can be viewed here.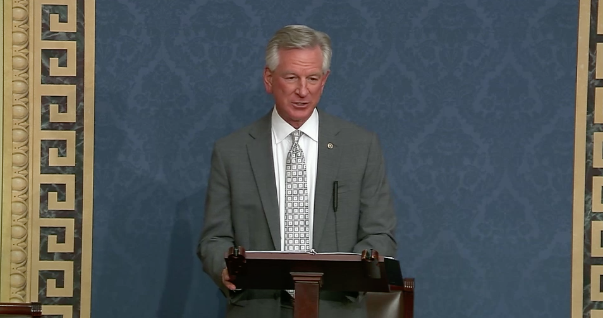 "I spoke recently about how the president's skinny budget is disappointing, dangerous, and a disservice to our men and women in uniform. China actively seeks to outpace the United States military and, in some cases, they're succeeding. This isn't a five or 10 year problem. The threat is right now."
"It is no secret that the Chinese Communist Party, or CCP, wants to replace the U.S. as the world's top power. The American people need to be aware of how the Chinese Communist Party is coming after us, not just with missiles and military might, but with plans to subdue the American spirit."
"A significant part of what has made the United States a global powerhouse is the strength and resilience of our private sector companies. Whether it is in the technology, health care or energy sectors, American innovation is unrivaled. It's what made us the greatest economy in the history of the world."
"China's leaders know this, but rather than go ahead head-to-head an honest competition, they've settled for stealing our intellectual property. Chinese businesses at the instruction of their government lure American companies in. They offer cheap labor. They promise an 'exchange of ideas,' but they really want to steal our valuable intellectual property."
"China's strategy is to rob, replicate and replace. China robs American companies of their intellectual property. They replicate our technology."
"They'll go after whatever they can to get their hands on: wind turbines, airplane designs, underwater drones, chemicals, or artificial intelligence technology. According to the Department of Justice, between 2011 and 2018, more than 90 percent of the department's foreign economic espionage cases involved China."
"Their goal is to surpass the United States economy and gain a monopoly control over every major industry. We cannot allow that to succeed."
"Even more alarming is what China is doing from within our own universities. Confucius Institutes currently operate at 55 American colleges and universities. They actually serve as a beachhead for the Chinese government within America's research institutions. Often just the presence of a Confucius Institute on campus will enable Chinese officials to stifle any criticism of the Chinese government at that university. The Institutes also allow Chinese government to harvest valuable data from research being conducted at our country's world class institutions."
"I was also glad to see Alabama A&M, a public land grant in historically black university, make the decision to close their Confucius Institute just last month."
"The United States and the entire Western world have given China valuable concessions for decades. We gave China a seat at the table thinking they would change, but they have played their hand ruthlessly."
"It's past time we recognize that despite all the good intentions, this strategy has failed — and miserably. The Chinese Communist Party has continually spied on its citizens, violently suppressed dissent and systematically persecuted religious and ethnic minorities to the point of genocide."
"I sincerely hope President Biden will continue to build on the Trump administration's momentum in pushing back against China's aggressive rise."
"The TSP, or Thrift Savings Plan, is the 401(k)-style investment plan that over six million federal government employees, both military and civilian, use for their retirement plan. The plan manages more than $700 billion in assets. Back in 2017, the board that governs the TSP decided to invest billions in companies with direct ties to the Chinese Communist Party."
"We need Congressional action to make President Trump's decision with this Thrift Plan permanent. I bet if you ask the folks who work in these buildings or who served the U.S. overseas if they want their retirement savings going to Chinese companies, you would hear a loud 'No.' I'll be offering a solution on this tomorrow to protect our national security and safeguard the retirements of those who have served our country with honor and distinction."
Senator Tommy Tuberville represents Alabama in the United States Senate and is a member of the Senate Armed Services, Agriculture, Veterans' Affairs, and HELP Committees.
###