Paris Hilton, abuse survivors, child advocates join lawmakers at Capitol press conference
WASHINGTON — U.S. Senator Tommy Tuberville (R-AL), the ranking member of the Senate Health, Education, Labor, and Pensions (HELP) Subcommittee on Children and Families, today joined a bipartisan, bicameral group of lawmakers to introduce the Stop Institutional Child Abuse Act. Senator Tuberville announced his support for the legislation at a press conference at the U.S. Capitol with Paris Hilton and other child abuse survivors and advocates.
"Kids and young adults will decide the future of this country," said Senator Tuberville. "I dedicated my life to mentoring young people because they are the most precious commodity we have. If we get everything else right, but neglect our young people, our country has no future. I've seen some of these residential care facilities with my own eyes and I know they need reform. There's an old saying that sunlight is the best disinfectant. We need some more sunlight on these facilities so we can put a stop to the waste, fraud, and abuse in the system. I'm proud to support this bill and stand with our kids."
Senator Tuberville's remarks from the press conference can be found here.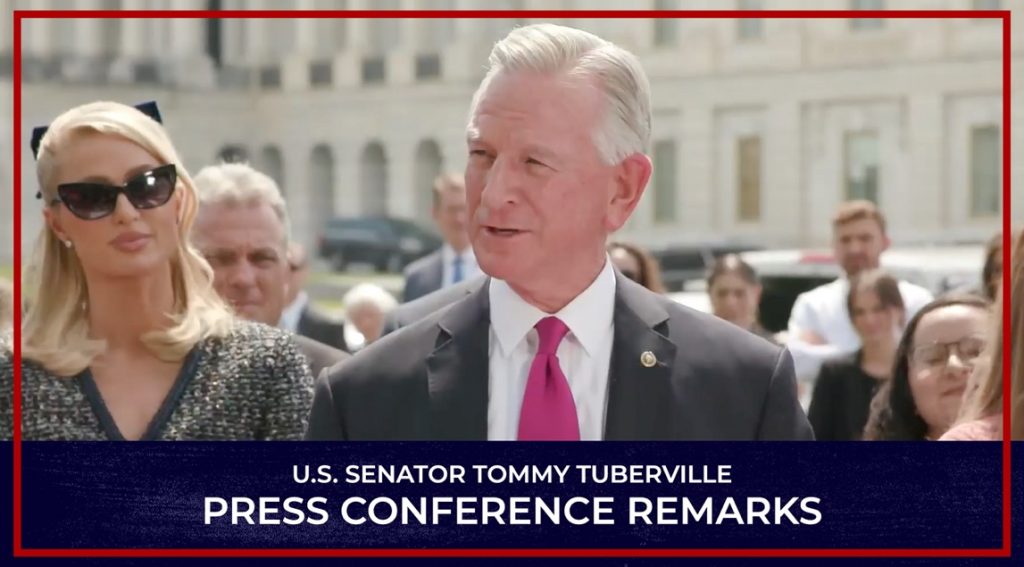 The Stop Institutional Child Abuse Act would provide greater oversight and data transparency for institutional youth treatment programs, improve information sharing systems between the states, and disseminate best practices for preventing institutional child abuse. U.S. Senators John Cornyn (R-TX) and Jeff Merkley (D-OR) are original cosponsors of the bill in the Senate and joined Senator Tuberville and Paris Hilton at today's press conference.
In recent years, residential care facilities have come under fierce scrutiny for abuses that have occurred behind closed doors. Working closely with advocacy groups and lawmakers in D.C., Paris Hilton, a residential care facility survivor and fierce advocate, has been a leading force shining a light and increasing awareness of the prevalence of physical, emotional, and sexual abuse of youth in these programs, which often leads to hospitalizations, prolonged trauma, and even deaths.
"For decades, children have experienced widespread abuse, neglect, and preventable death in youth residential programs across the country," said Paris Hilton, a residential care facility survivor. "Meanwhile, this deceptive multi-billion-dollar industry has operated without any real accountability or transparency. At long last, this is finally beginning to change with the Stop Institutional Child Abuse Act. As a survivor, I am proud to stand with bipartisan congressional leaders who are working to protect our nation's most vulnerable youth."
Investigations have uncovered abuse in these facilities across the nation, including broken bones, fight clubs, sexual abuse, forced isolation, and failure to provide adequate medical care or evidence-based treatment. The industry's lack of transparency and quality of care is alarming, and this legislation would help crack down on the physical and emotional abuse that many children in these facilities experience.
The Stop Institutional Child Abuse Act is a critical step forward that would provide increased oversight and data transparency for institutional youth programs by implementing recommendations from the Government Accountability Office (GAO) and Substance Abuse and Mental Health Services Administration (SAMHSA), such as developing robust information sharing systems among states and disseminating best practices for identifying and preventing institutional child abuse.
The Stop Institutional Child Abuse Act would:
Establish the Federal Work Group on Youth Residential Programs, comprised of representatives from the Administration for Children and Families, the Administration for Community Living, SAMHSA, and other relevant federal agencies.
Direct the National Academies of Sciences, Engineering, and Medicine to conduct a study on the use of restraints, seclusion, and other restrictive interventions in youth residential programs.
U.S. Representatives Earl L. "Buddy" Carter (R-GA-01) and Ro Khanna (D-CA-17) are original cosponsors of the bill in the U.S. House of Representatives.
Senator Tommy Tuberville represents Alabama in the United States Senate and is a member of the Senate Armed Services, Agriculture, Veterans' Affairs, and HELP Committees.
###