Tuberville discussed his visit to Panama and the need to combat Chinese expansion efforts in the Western Hemisphere
WASHINGTON — In a Senate Armed Services Committee hearing today focused on the posture of United States Northern Command (NORTHCOM) and United States Southern Command (SOUTHCOM), U.S. Senator Tommy Tuberville (R-AL) questioned General Laura Richardson about China's growing influence in Panama, the importance of private investments on U.S. bases, and the threat of Iran. Senator Tuberville also spoke with General Glen VanHerck regarding Northern Command's strategy to combat China.
Excerpts from Senator Tuberville's line of questioning can be found below, and the full video can be found here.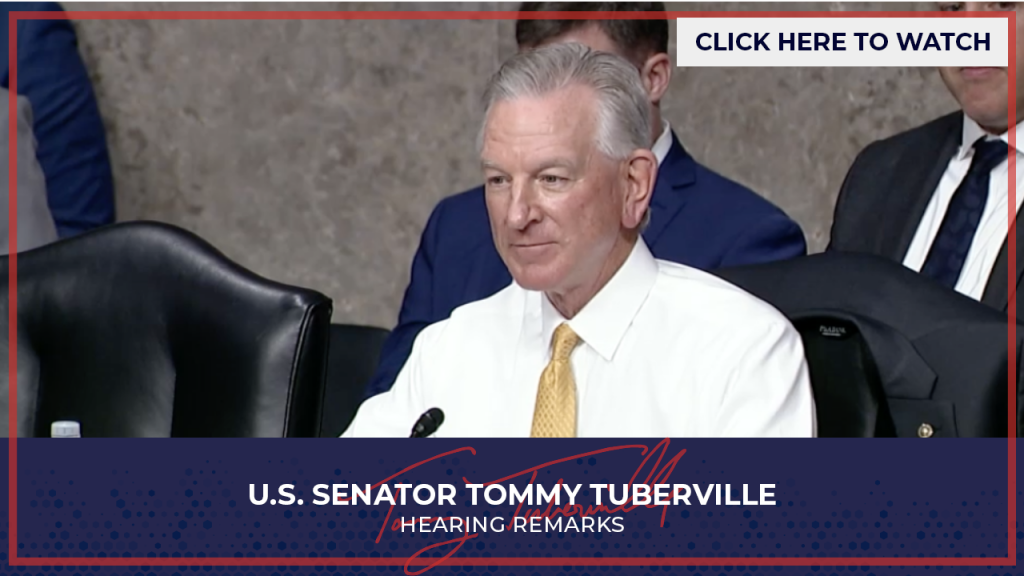 ON PRIVATE INVESTMENTS ON U.S. BASES:
TUBERVILLE: "General Richardson, thanks for being here today and thanks for the hospitality last week. Coming to SOUTHCOM, you've got a great organization, people working for you, they're outstanding. We learned a lot. I would hope that we have more people come down that way, would look at your new program that you're building quarters for your personnel through Lend Lease, which I think we should look at through the Air Force and through the Navy, because I think we need to privatize more things on bases to cut back on cost. But look forward to seeing how that turns out. Could you comment on that?"
RICHARDSON: "Well, thank you, Senator. That's for our family housing for our service members in Miami. And certainly, a really tough housing market and this will absolutely get after being able to counter all of those really high prices in a big city like Miami. And so, we're very thankful that we're able to get that off the ground. And with the support of Congress, we've been able to do that. So, thank you very much."
TUBERVILLE: "And we're looking forward to seeing how that works out. And I was very impressed with people after I go to Panama that were there actually from my state of Alabama, Mobile. The Corps of Engineers are down there working, and we've got a lot of good people."
ON THE PANAMA CANAL:
TUBERVILLE: "Just tell us how important in your eyes the Panama Canal is to us here in the United States, in your eyes, since you've been there?"
RICHARDSON: "Well, Senator, more than 70 percent of our global goods go through the Panama Canal for the United States. And so, the importance to the global economy, though, it's not just about what the United States gets, but that's the give back through that canal being open and the exchange of goods across the world. I talked about trade before, over 740 billion in trade. And so very, very important to the global economy for the Panama Canal."
TUBERVILLE: "And on top of that, and recently over the last few years, China signed 30 contracts with the Panamanians, some of it to do with the Canal and Panamanians are now trying to get out of some of those contracts because the Chinese have breached some of those contracts, which we need as the United States of America to protect Panama, because that's how important it is to all of us."
TUBERVILLE: "Could you talk a little bit about the two Iranian ships that are parked outside the Panama Canal and the process that we need to look at? Do they need to be able to use the Panama Canal?"
RICHARDSON: "In terms of the Iranian warships and transit and into the SOUTHCOM region and since departed but as part of their announcing their global voyage to go around the globe and certainly some of the countries that were able to deny port calls and things like that, but very concerning because they were just in the in the region two years ago with missiles and with launchers on those same two ships. And so very, very concerned that they're transiting again. We did not have the intelligence that they had this cargo on board this time. But still, the fact that they came into the region again and doing a global voyage is concerning."
ON COMBATTING CHINA:
TUBERVILLE: "I don't want to pound on this balloon nonsense but how would you assess your relationship with your Canadian counterparts through this entire scenario?"
VANHERCK: "I think my relationship with our Canadian counterparts, by the way, I have a boss in Canada, General Wayne Eyre is exceptional…"
TUBERVILLE: "…So, your relationship was good through this whole scenario?"
VANHERCK: "Absolutely."
TUBERVILLE: "If that same balloon took off today, same path, loaded the same way, now that we know what was on it, that we brought it down, should or would we shoot it down?"
VANHERCK: "That's a policy decision. My job is to maintain options. I did that. I'm very comfortable that we had options from the moment we detected it until the moment we shot it down. Ultimately, 'should' is a policy decision. That's not a military decision."
Senator Tommy Tuberville represents Alabama in the United States Senate and is a member of the Senate Armed Services, Agriculture, Veterans' Affairs, and HELP Committees.
###