"We don't need to idly sit by while our hardworking producers work tirelessly and barely survive under this Joe Biden economy."
WASHINGTON – Today, U.S. Senator Tommy Tuberville (R-AL) spoke on the Senate floor about the Farm Bill, which expires at the end of the year. Senator Tuberville pointed out that the Democrats' proposed Farm Bill costs $1.5 trillion because it prioritizes welfare and climate change over American farmers and producers. Excerpts from Senator Tuberville's speech can be found below, and his full remarks can be viewed here.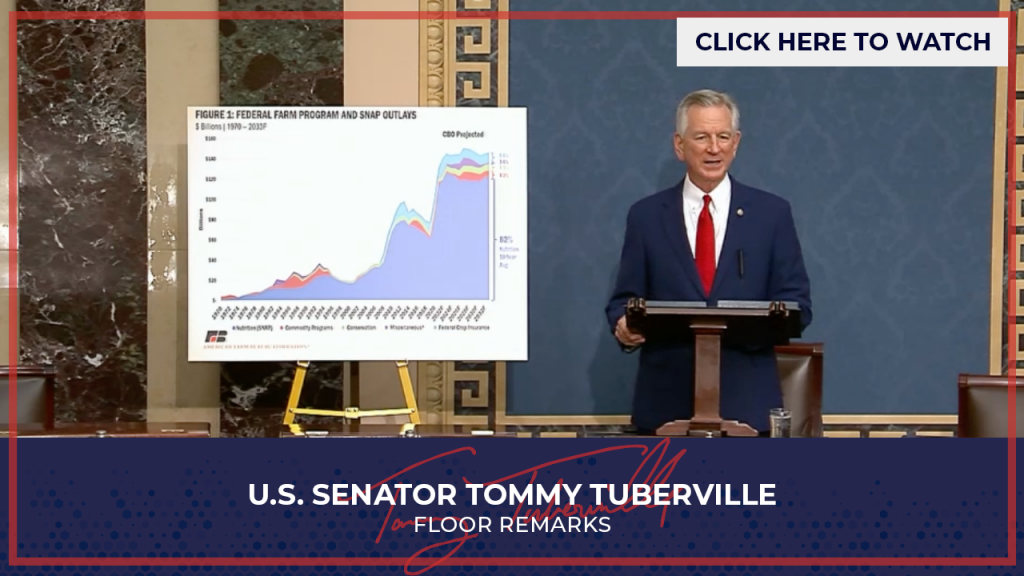 "This is the first trillion-dollar Farm Bill in our nation's history. The enormous price tag of the bill is driven by an 84% increase in SNAP, or federal nutrition assistance, and a 58% increase in conservation programs. In other words, a huge increase in welfare and climate spending.
"Most of this new spending does not offer support of our farmers. The $559 billion increase in SNAP funding was done directly by the Department of Agriculture through updates to the Thrifty Food Plan. In other words, nobody in Congress voted for this. The $35 billion in conservation funding was done through the Inflation Reduction Act of last year. Democrats are pushing through priorities that cater to climate activists and lead Americans to become dependent on welfare benefits. Approximately 82% of the upcoming Farm Bill goes to SNAP, commonly known as food stamps. 4% goes to conservation.
"Just yesterday we hit $33 trillion in debt for this country. Yeah, I said that — $33 trillion. That will be picked up, this tab, by our grandkids and their kids. […]
"The whole purpose of the Farm Bill is supposed to be to help farmers. What an idea. Yet, seven out of every eight dollars— again, seven out of eight dollars—in the Farm Bill is for something else. Our farmers depend on crop insurance, commodity programs, such as the Agriculture Risk Program (ARC) and Price Loss Coverage (PLC) program, and disaster programs to help them deal with difficult crop yields, markets, and rising input costs. Farmers can't control the weather or the price, and that's the reason they need help. We have to remember farmers put food on the table, but there's a lot of people that don't understand that. These are some of the hardest working people in America. And they have too little to show for it.
"Back home in my state of Alabama, I have heard the struggles facing our row croppers and specialty crop producers. They need help to deal with inflation and rising input costs. Farm production costs have increased 28% since Joe Biden took office less than three years ago. That's embarrassing. How in the world can we increase prices 28% in this country in two and a half years and expect the people of this country to survive—the hardworking people—farmers included. Fuel and fertilizer prices are 60% to 130% higher than they were in 2021. Folks, we can't survive with that. But my colleagues on the left are not even concerned about it, not one bit. […]
Other farm expenses like land, cash rents, labor, and equipment are all adding up. As a result, net farm income is projected to decrease by roughly 23% this year. Costs are up, incomes are down, and farmers are struggling to survive. […] The only thing that's keeping our farmers afloat is called the farm safety net. But the current support levels for Title 1 commodity programs like cotton, peanuts, and soybeans are not high enough to sustain our farmers for over the next five years. […] If we don't raise these reference prices, and right now my colleagues on the left don't want to raise those reference prices for our farmers, we're going to be buying all of our food and everything that we eat from other countries.[…]
"Now, we don't need to idly sit by while our hardworking producers work tirelessly and barely survive under this Joe Biden economy. […] Our nation's food security is going to depend on it, and the lives of all American citizens are going to depend on it."
BACKGROUND:
As Alabama's voice on the Senate Committee on Agriculture, Nutrition, and Forestry, Coach Tuberville is committed to supporting Alabama's farmers and producers.
During recent Farm Bill listening sessions throughout Alabama, Coach heard the concerns of peanut, cotton, and soybean farmers who are struggling in Joe Biden's economy.
Last week, Senator Tuberville introduced the Farmers' Market Expansion Act to add tree nuts, including pecans, to USDA's Seniors' Farmers' Market Nutrition Program. This would provide a new market for pecan producers and allow seniors increased access to nutritious, locally-sourced pecan products.
In July 2023, Senator Tuberville introduced two pieces of legislation—the Farm Board Act and the Mid-South Oilseed Double Cropping Study Act of 2023—to improve opportunities and representation for Alabama's agriculture community.
The Farm Board Act, which Senator Tuberville introduced with Senator Raphael Warnock (D-GA), and Senator Peter Welch (D-VT) would make changes to the Federal Crop Insurance Corporation's (FCIC) ten-member Board of Directors. The FCIC is a government-owned corporation that finances the federal crop insurance program's (FCIP's) operations. There are currently four seats for agricultural producers on the board, of which one must be a producer of specialty crops. This bill designates two of the remaining three open seats for farmers on the FCIC Board as (1) a producer of livestock and crops, and (2) an underserved producer, respectively.
The Mid-South Oilseed Double Cropping Study Act of 2023, led by Senator Tommy Tuberville (R-AL), Senator Katie Britt (R-AL), Senator Bill Hagerty (R-TN), and Marsha Blackburn (R-TN), would request a study from the USDA Risk Management Agency (RMA) on the gap in crop insurance coverage for certain winter oilseed crops, specifically canola and rapeseed, and double cropping policies. For farmers to take advantage of opportunities in renewable diesel and Sustainable Aviation Fuel, they need the assurance that crop insurance—such as Catastrophic Risk Protection, Yield Protection, Revenue Protection, or Revenue Protection with Harvest Price Exclusion—will be eligible in their counties for these crops and practices. To address crop insurance gaps that may exist, RMA and FCIC need analysis of winter oilseed crop and double-cropping production practices and opportunities.
These bills build on Senator Tuberville's legislation to address issues facing our agriculture community such as the Foreign Adversary Risk Management (FARM) Act, which would establish safeguards against foreign purchases of American farmland. Alabama is one of the most susceptible states to foreign agriculture influence, with our state having the third-highest amount of foreign-owned land in the country.
The U.S. Senate recently added a key part of Senator Tuberville's legislation to the national defense bill with an amendment that would block the purchases of U.S. farmland by China, Russia, North Korea, and Iran and add the Secretary of Agriculture to the Committee on Foreign Investment in the United States (CFIUS).
Senator Tuberville is also concerned with rising input costs continuing to cut into farmers' bottom lines and making it difficult to do what they do best: farm. That's why he helped introduce legislation to eliminate the federal Estate Tax, often called the Death Tax, to prevent any more family farms from going out of business due to this burdensome regulation. Instead of inhibiting production, the federal government needs to focus on creating an economic environment that preserves small businesses and family farms and incentivizes the next generation to enter the industry to continue feeding and fueling our nation.
Senator Tuberville also helped introduce the Feral Swine Eradication Act to extend and make permanent the pilot program established in the 2018 Farm Bill. The legislation would continue to safeguard public health, agriculture, and local ecosystems against the threat of feral swine. Feral swine impede farmers' livelihoods and our national food supply, causing more than $1.5 billion in damages annually. Over the last five years, feral swine have impacted more than 173,000 acres in Alabama.
This year, Senator Tuberville was named the top Republican of the AG Subcommittee on Rural Development and Energy, which enables him to build on his work to expand broadband access for rural communities.
Senator Tuberville's first hearing as Ranking Member of Rural Development and Energy—titled "Rural Broadband: Connecting our Communities to the Digital Economy"—focused on ways to expand broadband access in rural communities and incorporate these programs in the 2023 Farm Bill. Senator Tuberville invited Rainsville native and CEO of Farmers Telecommunications Cooperative Inc. (FTC), Frank Johnson, to testify before the subcommittee about successful broadband expansion technologies he's seen through his work to increase service speeds for rural areas.
In addition to the Subcommittee on Rural Development and Energy, Senator Tuberville serves on the Subcommittee on Commodities, Risk Management, and Trade, and Subcommittee on Food and Nutrition, Specialty Crops, Organics, and Research.
Senator Tommy Tuberville represents Alabama in the United States Senate and is a member of the Senate Armed Services, Agriculture, Veterans' Affairs, and HELP Committees.
###