"I think, Senator, that there of course were mistakes made"
WASHINGTON, D.C. – Yesterday, U.S. Senator Tommy Tuberville (R-AL) questioned Joe Biden's nominee for Under Secretary of Defense for Policy, Derek H. Chollet, during his confirmation hearing before the Senate Armed Services Committee (SASC). Coach Tuberville grilled Chollet on Biden's disastrous Afghanistan withdrawal, the Biden Administration's failure to secure the border, and why the DoD has not done more to stop the flow of deadly fentanyl coming across the Southern Border.
Read an excerpt from Senator Tuberville's exchange with Derek H. Chollet below or watch here.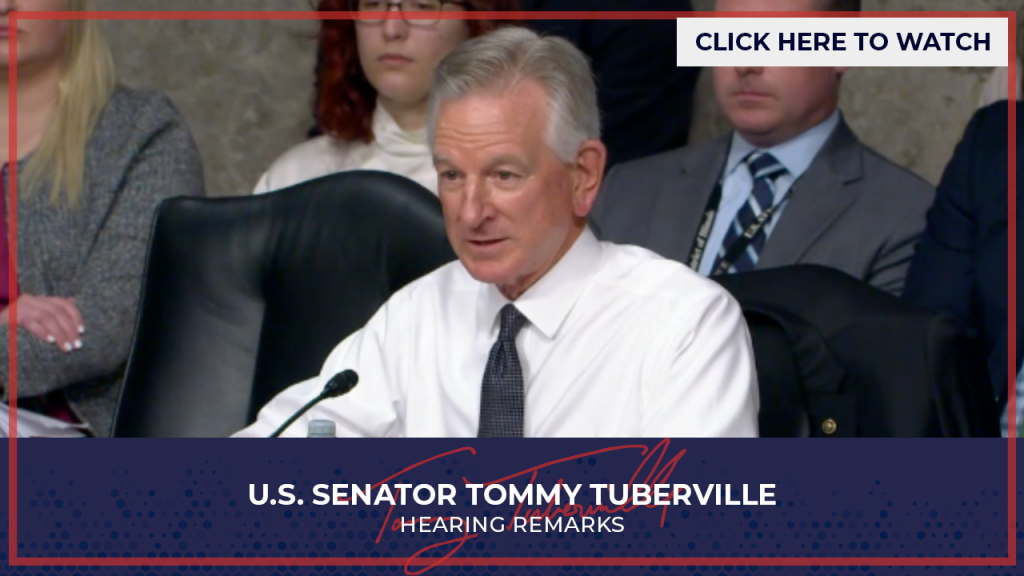 Sen. Tuberville: What do you think was the biggest misstep in the Afghanistan withdrawal in your thoughts after looking at it?
Hon. Chollet: Senator, I think there are so many lessons that we have to learn as a country [from] the 20-year engagement we had in Afghanistan. 2,400 troops lost 20,000 injured, $2 trillion dollars spent. It's why I applaud what Congress did with the support of this committee – the leadership of this committee – to create the Afghan War Commission. And, if confirmed, I pledged to you that I will do whatever I can to support the work of that commission because it's critically important that we learn the lessons and apply the lessons of that 20-year engagement in Afghanistan.
Sen. Tuberville: So, do you think we made some mistakes in the withdrawal?
Hon. Chollet: I think, Senator, that there of course were mistakes made over that 20-year period. Absolutely.
Sen. Tuberville: I've seen some statements that you've made about our immigration and our border. You know, two years ago, you can talk to pretty much any law enforcement officer in Alabama, they had never heard of fentanyl. We had less than 100 overdoses a year. Now fentanyl is number one in our state and we will lose over a thousand people this year. What do we tell the families [whose] kids are dying because of fentanyl – and we won't do anything at the border. What do we tell them?
Hon. Chollet: Senator, I really appreciate you asking this question because shining a light on the scourge that is fentanyl and the damage it is doing in so many communities across this country is absolutely critical. I can say that State Department Secretary Blinken has tried to make this into a global issue. Fentanyl is the number one killer of Americans 18-49. And it's a problem that we cannot solve alone because of the elaborate supply chain that creates fentanyl that ends up in US communities. So, just last week in New York, Secretary Blinken hosted a meeting of foreign ministers to talk about ways that countries can work together to try to fight the scourge of fentanyl. Because it's not just the US alone that is facing this challenge. Synthetic opioids are ravaging the Middle East and Asia as well. So, we have absolutely got to get at this problem. One of the things that I will do, if confirmed, at DoD is to understand DoD's role and see what more DoD can do to get at this problem.
Sen. Tuberville: Yeah. It doesn't seem like that we have everything in order from the DoD. In May, the Administration sent 1,500 troops to the border. In August, we pulled out 1,100. And a few days ago, we sent 800 back. If confirmed, I hope we get a little bit more consistency down there. I don't know if you've been down there, but it's a complete mess. We need to save our kids.
BACKGROUND:
Derek H. Chollet is the current counselor of the U.S. Department of State. He is awaiting confirmation to serve as Under Secretary of Defense for Policy.
Chollet is one of the nominees affected by Sen. Tuberville's holds as a result of President Biden's illegal taxpayer-funded abortion policy.
Senator Tommy Tuberville represents Alabama in the United States Senate and is a member of the Senate Armed Services, Agriculture, Veterans' Affairs, and HELP Committees.
###