Tuberville previously introduced resolution to designate September 6th as National HBCU Week
WASHINGTON – U.S. Senator Tommy Tuberville (R-AL), today on the Senate floor, highlighted the important contributions of Historically Black Colleges and Universities (HBCU). Alabama is home to the greatest number of HBCUs of any state in the nation. In recognition of the impact and value these institutions play in the lives of America's youth, Senator Tuberville introduced a resolution along with Senator Tim Scott (R-SC) to formally designate the week of September 6th as National HBCU Week.
Excerpts from Sen. Tuberville's remarks can be found below, and the full speech can be viewed here.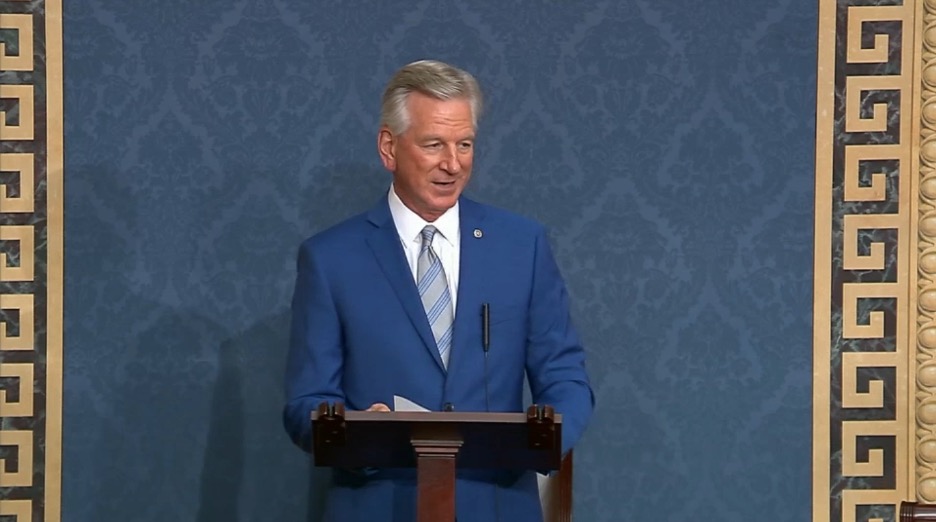 "Sometimes we don't all agree on things here in this chamber, but I think we can all agree that a quality education has the power to uplift and transform someone's life. It is the key to freedom and the key to opportunity. I know this because I've seen it firsthand. I've coached and mentored hundreds of student athletes over my 40-year career. I witnessed the difference an education can make in the outcome of someone's life, how it truly creates a pathway to success."
"It's like putting a down payment on our country's future success by creating opportunity."
"I've recruited hundreds and hundreds of students from across our country. I have been in their homes. I've seen how they lived. I've seen how they've grown up. Unfortunately, for many children from difficult backgrounds, a large percent coming from one or no-parent homes, real opportunities can be hard to come by, very hard."
"Many students across the country have turned to Historically Black Colleges and Universities, better known as HBCUs, to answer these questions because of the pathway HBCUs provide. While they are respected for their strong traditions, HBCUs are the ultimate opportunity creators for students all across this country."
"I am proud that the great state of Alabama is home to 13 HBCUs, the most of any state in the nation. These colleges are major contributors to communities across our state, producing more than 15,000 jobs annually for our local economies. And they also prepare students for the 21st century job market."
"Alabama State University offers the Minority Science and Engineering Improvement Program. This program focuses on giving undergrad STEM students a chance at hands-on research and professional development opportunities."
"In Montgomery, Trenholm State offers free STEM courses for dual enrollment students to allow high school students to get a jumpstart on their college careers."
"Alabama A&M University recently announced its new Master's apprenticeship program for social work, the first of its kind by any HBCU in the country."
"Tuskegee University, home of the renowned scientist George Washington Carver and the Tuskegee Airmen, leads the country in African-American aerospace science engineer graduates – leads the country."
"Oakwood University in Huntsville is one of the top universities sending minority undergraduate students to medical schools. And just this year, the achievements of two Stillman college students and two Talladega college students were recognized by the White House as part of the prestigious HBCU Scholars program."
"In as little as six months, a student at Lawson State Community College in Birmingham can launch a career, just in six months. Their vocational programming provides low-cost, fast-tracked avenues for students to gain subject matter expertise in industries like HVAC work and building construction."
"Meanwhile, Gadsden State Community College is working to make a new advanced manufacturing center part of its future, to help prepare students for the roles that manufacturing industry will be filling in the coming years."
"Shelton State's Fire college is responsible for training paid, volunteer firefighters and EMTs."
"Bishop State Community College just partnered with Alabama Power to offer a nine-week electric line worker training program. Only nine weeks. The graduates of this new program will be the power restoration experts that people rely on in times of need, such as a hurricane– which we have just gone through several in the last few months in the south."
"Drake State created a satellite tracking station in partnership with NASA, and an amateur radio station that serves as FEMA's relay station during weather watch activities. And throughout its history, Miles College has a strong relationship with surrounding communities, promoting racial equality for African Americans."
"Overcoming decades of adversity and opposition, HBCUs continue to be competitive, educational institutions with programs for students who want higher education, career tech training, or to position themselves for better employment opportunities. We need to honor accomplishments by the HBCUs and celebrate their significant contributions to our society."
"Over the last decade, my colleague Senator Tim Scott from South Carolina has been focused on doing just that. I'm thankful to have joined him the last month to introduce a resolution to formally designate the week of September 6 as National HBCU Week because their work and the work of their leaders, these institutions are deserving of national recognition."
"…Our recognition shouldn't stop at one week. We should honor their work by continuing the conversation for how we can support these institutions for years and years to come. HBCUs have given the gift, a gift of education and an opportunity to so many in Alabama and across our nation."
Senator Tommy Tuberville represents Alabama in the United States Senate and is a member of the Senate Armed Services, Agriculture, Veterans' Affairs, and HELP Committees.
###