WASHINGTON — U.S. Senator Tommy Tuberville (R-AL) today released a video honoring U.S. Air Force Master Sergeant Bob Ammons of Ozark as the November "Veteran of the Month."
Excerpts from Senator Tuberville's remarks can be found below, and his full remarks can be found here.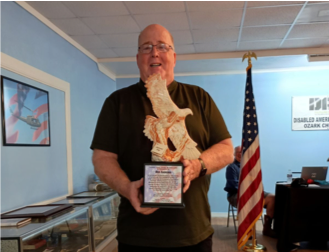 "Bob did 14 assignments in 32 different countries during his 24-year-career. His skills in developing safety strategies ensured many American airmen returned home safely from their missions overseas. Bob climbed the ranks to becoming a Senior Munitions Inspector and Missile Inspector, where he was in charge of ensuring all missile systems were ready for combat."
"Now, he volunteers with veterans and faith groups in the Wiregrass. Bob and his wife are actively involved in Post Oak Baptist Church in Ozark. Bob helps fix donated appliances for the Dale County Baptist Association's thrift store. He also serves as a Service Officer for Chapter #94 of the Disabled American Veterans, where he helps veterans with benefits and medical appointments. Bob is also very involved with Friends of Army Aviation, helping inspire future generations of aviators and supporting aviator veterans."
"Alabama is fortunate that Bob chose to use his talents to make our state a better place to call home."
Senator Tuberville recognizes a different Alabama veteran each month for their service and contribution to their community. Constituents can nominate an Alabama veteran and submit their information to Senator Tuberville's office for consideration by emailing press_office@tuberville.senate.gov.
Senator Tommy Tuberville represents Alabama in the United States Senate and is a member of the Senate Armed Services, Agriculture, Veterans' Affairs, and HELP Committees.
###