Tuberville's Veteran of the Month series recognizes Alabama's heroes for service to our military and local communities
WASHINGTON — U.S. Senator Tommy Tuberville (R-AL) today released a video honoring U.S. Air Force Airman First Class Earl Smith as the May "Veteran of the Month." Excerpts from Senator Tuberville's remarks can be found below, and his complete remarks can be found here.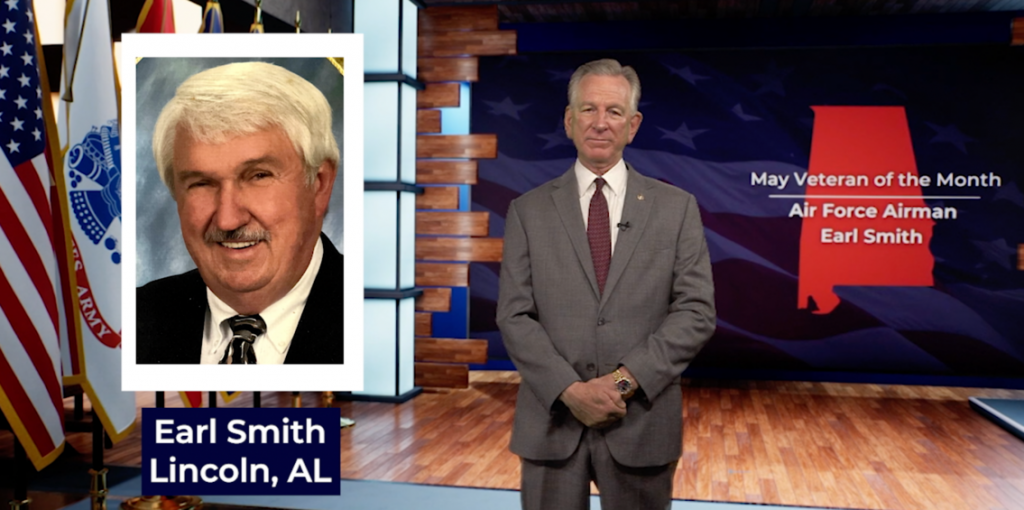 "We'll never fully understand—or know—the sacrifices our service members make to keep us safe, both at home and abroad. Like Airman First Class Earl Smith of Lincoln, Alabama. His story of heroism went untold for more than 50 years because of security reasons. His bravery and quick action prevented what could have been the worst nuclear disaster in history."
"Always up for an adventure, Airman Smith decided to enroll in bomb disposal school after enlisting. He recalls his instructor's warning on the first day that you're only allowed one chance to mess up—because just one mistake could be fatal. Nine months after completing his training, his skills were put to the ultimate test while stationed at Seymour Johnson Air Force Base in North Carolina."
"On January 24, 1961, Airman Smith woke up to a midnight call telling him to report to the base as soon as possible. Without any protective gear or fully strapping up his boots, he arrived to the base, where he was then whisked away to the site of a B-52 plane crash 15 miles away. The plane was transporting two nuclear bombs reported to be 250 times more powerful than those used on Japan during World War II. Both bombs had fallen out of the plane during the crash, creating what is now reported as a 100% kill zone for surrounding communities."
"Upon arriving to the scene, he immediately noticed one of the bombs was activated…Thankfully, he acted quickly to disengage the bomb, saving countless American lives."
"If you travel to Eureka, North Carolina, there is a marker that says, 'Nuclear Mishap—Widespread disaster averted.' This is all thanks to Alabama's extraordinary hero—Earl Smith—who I am proud to recognize as May's 'Veteran of the Month.'"
Senator Tuberville recognizes a different Alabama veteran each month for their service and contribution to their community. Constituents can nominate an Alabama veteran and submit their information to Senator Tuberville's office for consideration by emailing press_office@tuberville.senate.gov.
Senator Tommy Tuberville represents Alabama in the United States Senate and is a member of the Senate Armed Services, Agriculture, Veterans' Affairs, and HELP Committees.
###