Tuberville's Veteran of the Month series recognizes Alabama's heroes for service to our military and local communities
WASHINGTON — U.S. Senator Tommy Tuberville (R-AL) today released a video honoring U.S. Army Chemical Operations Specialist Jason Guyton as the April "Veteran of the Month." Excerpts from Senator Tuberville's remarks can be found below, and his complete remarks can be found here.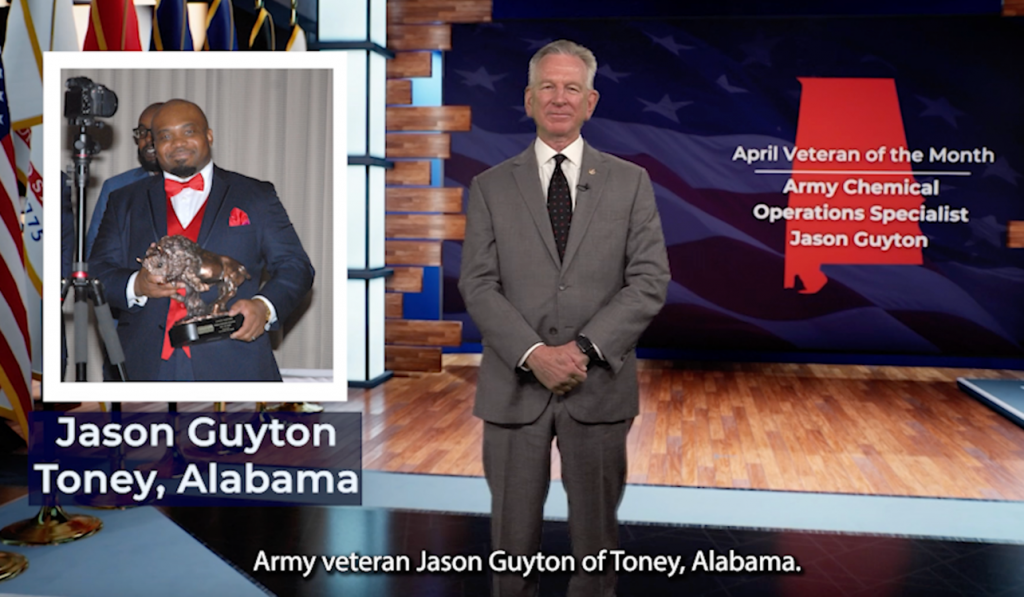 "After a successful wrestling career at Howard University—where he became the first freshman in school history to compete for a NCAA Division I Championship—Jason decided to follow in his dad and grandad's footsteps. But instead of joining the Navy, Jason enlisted in the U.S. Army Reserves as a Chemical Operations Specialist while also keeping his day job as an Operations Manager at West Corporation. During his time in the reserves, Jason was deployed to Operation Enduring Freedom and Iraqi Freedom, where he ensured sites were safe from nuclear chemicals and biological threats."
"Like many veterans, the challenges of serving our country did not end after Jason's 12 years in the military. He experienced several personal setbacks, causing him to fall on hard times financially and become homeless. But thanks to his military training and support from veterans' groups, Jason overcame his situation and channeled his experience into a career in financial services. Now, Jason serves as a Member Experience Advocate for Avadian Credit Union at its Huntsville location."
"He is very open about his struggles because he wants other veterans to know that they too, can overcome any challenges they face after their military service."
"Although he is not an Alabama-native, after finding out Huntsville was the Home of the U.S. Space and Rocket Center through an Internet search, Jason decided he wanted to call Madison County home."
"He uses his talents to coach wrestling for students between ages 5 and 12—serving as a positive influence for hundreds of athletes who he's mentored throughout the years."
"And his influence doesn't end with being a coach. Jason's son, Tré, also decided to join the Navy and become a fourth-generation service member in the Guyton family. Jason's story is an example of overcoming hardship and using it to help others, and we salute his service to the Madison County community."
Senator Tuberville recognizes a different Alabama veteran each month for their service and contribution to their community. Constituents can nominate an Alabama veteran and submit their information to Senator Tuberville's office for consideration by emailing press_office@tuberville.senate.gov.
Senator Tommy Tuberville represents Alabama in the United States Senate and is a member of the Senate Armed Services, Agriculture, Veterans' Affairs, and HELP Committees.
###