"Let's stick with the facts. And after today's briefing it's clear to me: the Pentagon doesn't have any facts."
WASHINGTON — In keeping with a pledge he made to Secretary of Defense Lloyd Austin last December, U.S. Senator Tommy Tuberville (R-AL) yesterday blocked the twelfth attempt by Senate Democrats to circumvent his delay of military promotions before the U.S. Senate. In February, Senator Tuberville placed a "hold" on all U.S. Department of Defense (DoD) general and flag officer nominations over the department's new policy of funding travel and additional paid time off for service members and their dependents seeking an elective abortion. The hold simply requires military nominations and promotions to be processed through regular order rather than being approved by unanimous consent in large batches.
Senator Tuberville's comments on the Senate floor came just days after over 5,000 veterans sent a letter voicing their support for Senator Tuberville's decision to place a hold on Pentagon general and flag officer promotions to Senate Majority Leader Chuck Schumer (D-NY) and Senator Minority Leader Mitch McConnell (R-KY).
Senator Tuberville's objection on the Senate floor followed a closed-door briefing from Department of Defense staff regarding their illegal abortion policy. Senator Tuberville was left with more questions than answers and it became clear that this new policy was never based on the facts. The briefing only strengthened his resolve to defend the rule of law and the unborn.
Excerpts from Senator Tuberville's remarks can be found below, and his complete remarks can be found here.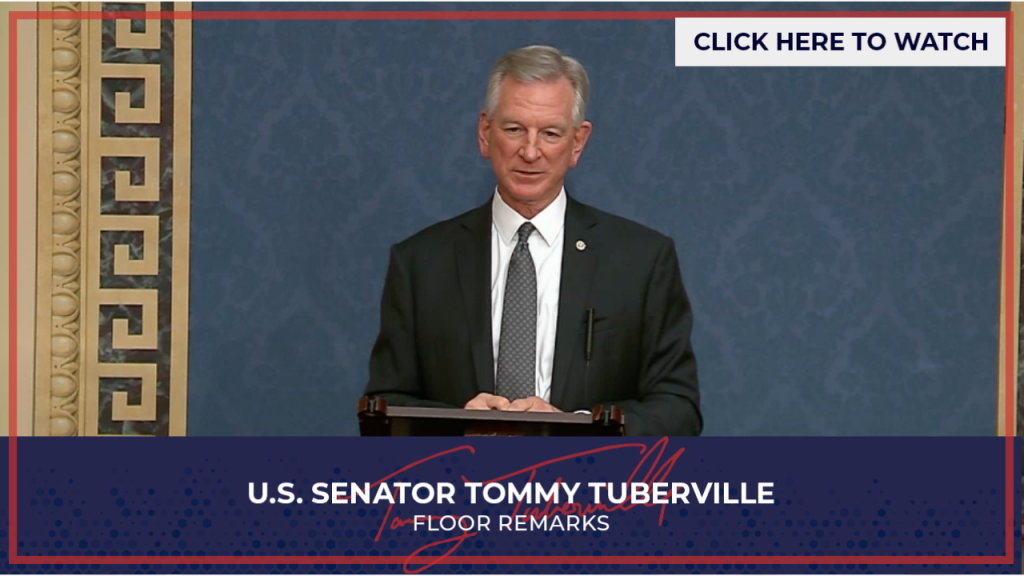 "This morning, the Pentagon staff who is in charge of putting this together, gave a briefing to the members of the Senate Armed Services Committee. To be honest with you, it was a complete debacle. I thought they would be prepared. The briefing confirmed a few things we know about this policy. First of all, there are virtually no restrictions at all on the use of this policy. None. The briefers confirmed that the policy could be used to facilitate a late term abortion for enlisted members and their dependents. Pentagon officials confirmed that this policy would facilitate abortion up to the moment of birth depending on the state. At the moment of birth. Late term abortion is opposed. Madam President, late term abortion is opposed by about three quarters of the American people. To be clear, the DoD has the authority to perform abortions in cases of rape, incest, and life of the mother. That was passed on this floor in 1984. Now, what we're talking about with this new policy that no one in this building voted on is taxpayer funding for elective late term abortions. This is radical. It's extreme. It's downright wrong."
"This is a taxpayer-funded abortion that nobody, I mean, nobody voted for in this building or the other end of the building. Democrats say my hold is unprecedented. Well, I will say this. Their abortion policy is unprecedented. We are here to make the law, not the Pentagon. Anyone who calls themselves pro-life needs to stand up and be counted right now. That's my party included. Democrats' media machine is throwing the kitchen sink at this hold. Doesn't bother me. I've been called everything anyway. It just makes me that much stronger to hear people complain about this, knowing that deep down somewhere there's a soft part in their heart for the four to five thousand unborn babies that will never breathe life on this earth. So, the more Joe Biden attacks me, the more I'm convinced that I'm doing the right thing."
BACKGROUND
Following the U.S. Supreme Court's ruling in Dobbs v. Jackson Women's Health Organization in June 2022, the Department of Defense claimed in a memorandum that the ruling would "have significant implications for…the readiness of the Force," but provided no evidence to support this conclusion. On July 15, 2022, Senator Tuberville and Republican members of the Senate Armed Services Committee (SASC) sent a letter calling on Secretary of Defense Lloyd Austin to justify the assertion. The letter went unanswered.
On October 20, 2022, Secretary Austin released another memorandum entitled "Ensuring Access to Reproductive Health Care." The memo outlined the Department of Defense's intent to develop policy, procedures, and programs to expand taxpayer-subsided abortion in the military beyond what is currently allowed under federal law.
On November 28, 2022, Senator Tuberville and his Republican SASC colleagues sent an additional letter to Secretary Austin asking him to explain the October memo and the Department of Defense's justification for the potential expansion of its abortion policy. In the letter, the senators warned, "The Department's actions send the implicit message to our service members that pregnancy is a liability to the force and our military's success hinges on access to abortion. This is an egregious mistake." Again, the letter went unanswered.
The Department of Defense finally scheduled a briefing for Senate offices on November 17, 2022, about the Department's memorandums and potential policy changes. However, the briefing was abruptly canceled. In response, on December 5, 2022, Senator Tuberville placed a hold on DoD nominations until the Pentagon rescheduled the canceled briefing and responded to questions about the military's memos on reproductive care.
Within 24 hours, the DoD rescheduled the staff briefing, and it occurred on December 7, 2022. During the rescheduled briefing for members of Senator Tuberville's staff, Department of Defense officials revealed their intent to announce a new policy that would cover travel and leave for service members and their dependents seeking abortions. Following the briefing, on December 9, 2022, Senator Tuberville notified Secretary Austin that he would place an additional hold on Department of Defense nominees if the Department implemented its abortion plan, which Senator Tuberville believes is illegal.
The department's authority to fund abortions is governed by 10 U.S.C. 1093, which limits abortions to cases of rape, incest, or pregnancies that threaten the life of the mother. These rules apply to both service members and their spouses and dependents. Given this provision, the Department of Defense has averaged fewer than 20 abortions per year, with 91 abortions at military facilities occurring between 2016 and 2021. According to a third-party study cited by officials, the number of abortions subsidized by the Department of Defense under the new policy could increase to 4,100 annually — 205 times the number of abortions performed in recent years.
Without responding to Senator Tuberville's pledge, Secretary Austin released another memorandum on February 16, 2023 announcing the formal implementation of the abortion policy to fund travel and paid time off for service members and their dependents seeking an abortion, despite existing law.
On March 8, 2023, Senator Tuberville followed through with his pledge to hold all general and flag officer nominations on the Senate floor. Senator Tuberville defended his hold on the floor again on March 23, 2023.
Senator Tuberville's hold forces the Senate to consider and vote on the nominations by regular order instead of approving them in batches by unanimous consent, which can be considerably faster. The nominations can still be approved by the Senate, but the Majority Leader must make additional time for them to be considered on the floor.
Contrary to claims by Democrats, Senator Tuberville's hold is not unprecedented. The tactic has been threatened and used by senators from both parties for decades. Just a few weeks ago, Senator Michael Bennet (D-CO) threatened to hold Pentagon nominees because he was upset his home state lost a competition to house U.S. Space Command headquarters — to Alabama. Despite what Senator Bennet has said on the Senate floor, this hold would have affected six nominees.
Senator Tommy Tuberville represents Alabama in the United States Senate and is a member of the Senate Armed Services, Agriculture, Veterans' Affairs, and HELP Committees.
###