Questioning in Senate hearing comes hours after Tuberville spoke on Senate floor to highlight facts supporting the move to Redstone Arsenal
WASHINGTON — In a Senate Armed Services Committee (SASC) hearing today, U.S. Senator Tommy Tuberville (R-AL) pressed a senior military official in defense of the U.S. Air Force's decision to move U.S. Space Command (SPACECOM) headquarters to Alabama, confirming independent studies that prove Redstone Arsenal in Huntsville is, unquestionably, the best location. In the hearing, Senator Tuberville questioned General James Dickinson, commander of SPACECOM, about the criteria and scores that led to Huntsville's selection. These questions prompted General Dickinson to confirm the process that chose Alabama as the number one choice for SPACECOM.
The hearing came hours after Senator Tuberville took to the Senate floor to methodically lay out the facts supporting Redstone Arsenal as the best location for SPACECOM, defend Alabama from baseless political attacks, and urge the military to proceed with its original plan to permanently bring SPACECOM to Huntsville as soon as possible.
Excerpts from Senator Tuberville's line of questioning can be found below, and the full video can be found here.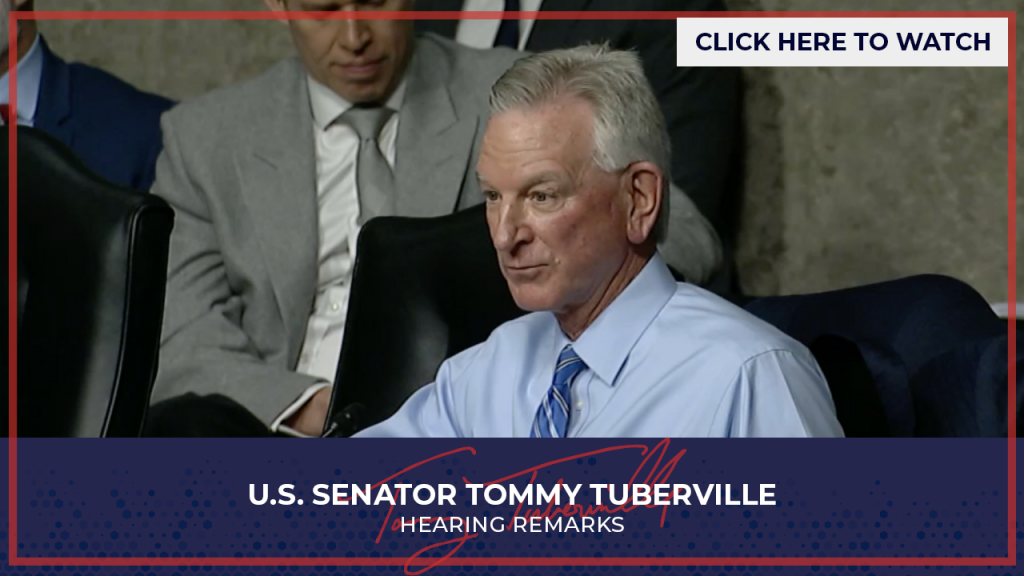 ON THE SPACECOM HEADQUARTERS SELECTION PROCESS
TUBERVILLE: "General Dickinson, it'd be unfitting for me not to ask you about Space Command in your last hearing here. Since the Senator from New Hampshire brought it up, we've heard a lot in the last few years about the basing decision of command headquarters. I didn't want to get into a back and forth about this decision, but when my colleagues bring it up, I want to make sure the facts are correct. General, in 2019, the Air Force identified six suitable locations for Space Command, correct?"
DICKINSON: "Yes." (inaudible)
TUBERVILLE: "In 2020, when then Secretary of Defense Mark Esper testified before this committee, he instructed the Air Force to allow for communities to self-nominate. That resulted in the Air Force examining 66 communities across 26 states, correct?
DICKINSON: "As best I can recall."
TUBERVILLE: "It was an exhaustive selection process that weighed 21 different factors and involved site visits, interviews, and input from up and down the chain of command. That process took eight months, correct?"
DICKINSON: "As best I can recall."
TUBERVILLE: "Which community ranked #1 in that analysis?"
DICKINSON: "I don't recall exactly which one."
TUBERVILLE: "I'll refresh your memory: Huntsville. Do you recall which base ranked second?"
DICKINSON: "I don't recall."
TUBERVILLE: "It was Offutt Air Force Base in Nebraska. Do you recall third? You probably don't, it was a joint base in San Antonio. The Commander in Chief selected the location that the Air Force ranked number one. Yet since the president selected Huntsville, the location, the Air Force study ranked #1, in January 2021, we've had two years of delay. The world is on fire right now and we need to catch up. The Colorado delegation asked for an Investigator General Report and GAO report on the process. Ironic, isn't it. Colorado wasn't even second or third, but they asked for a report. So, when the GAO examined this process, they said, and I'm going to quote here, 'Redstone Arsenal ranked as the highest scoring location in the Evaluation Phase, the highest ranked location in the Selection Phase, and the location with the most advantages in the decision matrix. Air Force officials stated that the decision to identify Redstone Arsenal as the preferred location stemmed from Air Force analysis showing it was the strongest candidate location.' We've gone back and forth with this, and I know Secretary Kendal is going back and forth on this, hopefully we get this done. Hopefully, we get it done before your term is out. I know that we have commercial people that are involved in this, and I know commercial people are going to be hugely involved in Space Command for years and years to come and we look forward to all of that coming together in one location in the very near future and hopefully that is Huntsville. General, thank you for your service and what you've done for Space Command. You've been the only one there and you brought it from infancy, and you've done a great job. Thank you."
Excerpts from Senator Tuberville's remarks defending Redstone Arsenal as the rightful home of SPACECOM on the Senate floor yesterday can be found below, and the full video can be found here.
"It's unfortunate that members from states that weren't even really [in the] running for SPACECOM headquarters are trying to tie completely unrelated political issues to a fact-based decision."
"The decision to put SPACECOM in Huntsville was based on facts — and facts alone — and evidence of what's best for the military and for the country and national defense. That decision was then reconfirmed by multiple independent studies. The DoD Inspector General and the GAO confirmed that Huntsville was the number one location for SPACECOM — based on things like workforce, existing infrastructure, education, and the cost of living."
"Redstone Arsenal in Huntsville is far and away the best place for SPACECOM. This is not my opinion, it's fact. It's fact from several studies. Attempts to change that with progressive talking points are shameful and purely political. It's really a shame."
Senator Tommy Tuberville represents Alabama in the United States Senate and is a member of the Senate Armed Services, Agriculture, Veterans' Affairs, and HELP Committees.
###