WASHINGTON – Yesterday, U.S. Senator Tommy Tuberville (R-AL) questioned witnesses Madelyn Creedon and Jon Kyl during a hearing before the Senate Armed Services Committee (SASC). Coach Tuberville raised questions about the current plan to modernize and expand our air fueling tankers.
Read excerpts below or watch the full exchange here.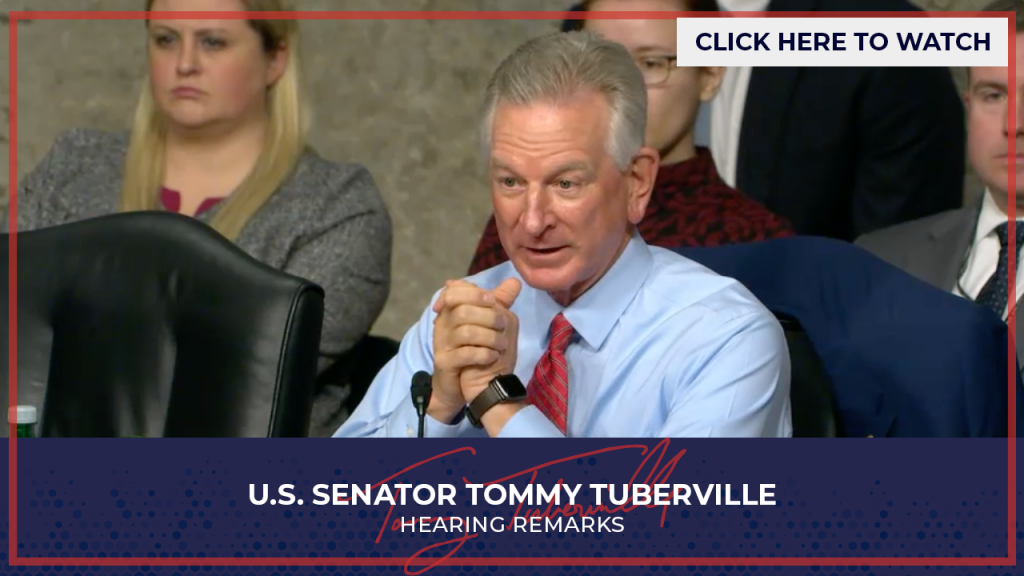 Senator Tuberville: Thank you for this report. Probably the most interesting thing I've read since I've been here in three years. And thank you for your hard work. That had to be a mountain of work with both of you and a lot of other people putting this together. In your report, you mentioned that the current plan to modernize and expand our air fueling tankers is inadequate. Could you expound on that? Both of you say a few words about that.
Madelyn Creedon: Yes, sir. I mean, if we accomplished one thing, it was to bring together a lot of things that are known, but we brought them all together and put them forward in one package. So, I think the report does a lot to be very clear eyed about what our threats are and what our requirements are. And tankers are one of the shortfalls that that have existed for quite a while. And the tankers are essential for both theaters. They're essential for the conventional capability. They're essential for the nuclear capability, and we just need more of them.
Senator Tuberville: Especially for Indo-Pacific. We need tankers that are gonna be able to haul longer and carry more fuel. And unfortunately, we've got a contract out there that we can't get a decent refueler finished and it seemed like it takes forever, but that's what happens up here. We give out contracts and we can't fulfill them.
Madelyn Creedon: Part of it, also, is understanding how the tankers fit in our integrated defense planning. And that is also very important because we have to look at how we do this integrated planning, not only within the US, but also with our allies. And how they bring these capabilities to the to the fight as well.
Senator Tommy Tuberville represents Alabama in the United States Senate and is a member of the Senate Armed Services, Agriculture, Veterans' Affairs, and HELP Committees.
###