WASHINGTON — In keeping with a pledge he made to Secretary of Defense Lloyd Austin last December, U.S. Senator Tommy Tuberville (R-AL) yesterday blocked the eighth attempt by Senate Democrats to circumvent his delay of military promotions before the U.S. Senate.
In February, Senator Tuberville placed a "hold" on all U.S. Department of Defense (DoD) general and flag officer nominations over the department's new policy of funding travel and additional paid time off for service members and their dependents seeking an elective abortion. The hold simply requires military nominations and promotions to be processed through regular order rather than being approved by unanimous consent in large batches.
Senator Tuberville's remarks can be found below and a video is available here.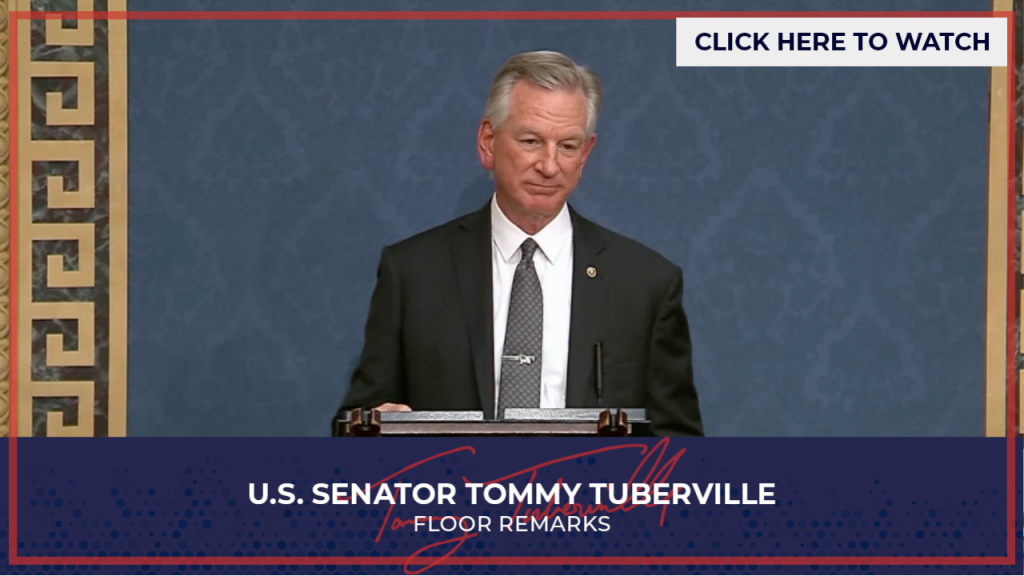 "I continue to reiterate my stance and my position over the last, almost, four months now, about my opposition to this policy. Now, the burden is not on me to pass legislation to stop this illegal policy, the burden is on the administration. The burden is on the administration to stop breaking the law."
"And so let me just say this one more time — because I keep getting asked the same question over and over again. I will keep my hold, I will keep it on, until the Pentagon follows the law or changes the law. It's that simple. Those are the two conditions that would get me to drop the hold. So, until these conditions are met, I object."
In May, more than 3,000 veterans and servicemembers sent a letter rejecting the Pentagon's abortion policy. In the same week, retired Lieutenant General William Boykin and retired Lieutenant Colonel James Carafano penned an op-ed in support of Senator Tuberville's efforts.
Senator Tuberville believes the Pentagon is circumventing the role of Congress and flouting existing federal law, which narrowly restricts the use of taxpayer funds and DoD facilities being used to provide or facilitate abortions for service members.
Following motion on the floor this week, Senator Tuberville has thwarted Democrats from breaking his hold on these nominations eight times, a position he recently explained in The Wall Street Journal and The Washington Times. U.S. Senators Mike Lee (R-UT) and Roger Marshall, M.D. (R-KS) joined Senator Tuberville in speaking to keep the hold in place, highlighting the growing support for Tuberville's position. Similar to previous weeks, several members of the U.S. House of Representatives alsocame across the Capitol to sit in the Senate chamber in solidarity with Senator Tuberville. Yesterday, this group included U.S. Representative Jake Ellzey (R-TX-06), a military veteran who served for 20 years as a fighter pilot in the U.S. Navy.
On the Senate floor, Democrats repeatedly made false claims that Senator Tuberville's hold is leaving vacancies in military positions and leadership. That is untrue. No job is going unfilled due to Senator Tuberville's hold. The military keeps existing officers in place until their replacements are confirmed.
BACKGROUND
Following the U.S. Supreme Court's ruling in Dobbs v. Jackson Women's Health Organization in June 2022, the Department of Defense claimed in a memorandum that the ruling would "have significant implications for…the readiness of the Force," but provided no evidence to support this conclusion.
On July 15, 2022, Senator Tuberville and Republican members of the Senate Armed Services Committee sent a letter calling on Secretary of Defense Lloyd Austin to justify the assertion. The letter went unanswered.
On October 20, 2022, Secretary Austin released another memorandum outlining the Department's intent to develop policies, procedures, and programs to expand taxpayer-subsided abortion in the military beyond what is allowed under federal statute.
On December 9, 2022, Senator Tuberville notified Secretary Austin that he would place a hold on Department of Defense nominees if the Department implemented this abortion plan, which goes even further beyond what is allowed in statute.
On February 16, 2023, Secretary Austin released another memorandum, this one announcing the formal implementation of the abortion policy to fund travel and paid time off for service members and their dependents seeking an abortion.
On March 8, 2023, Senator Tuberville followed through with his pledge to hold all general and flag officer nominations on the Senate floor. Since then, Senator Tuberville has objected to Democrats' attempts to break the hold eight times, repeatedly pointing out that the nominees could and should be approved by regular order.
Senator Tuberville's hold forces the Senate to consider and vote on the nominations by regular order instead of approving them in batches by unanimous consent. The nominations can still be approved by the Senate, but the Majority Leader must make additional time for them to be considered on the floor.
The department's authority to fund abortions is governed by 10 U.S.C. 1093, which limits abortions to cases of rape, incest, or pregnancies that threaten the life of the mother. These rules apply to both service members and their dependents. Given this provision, the DoD has averaged less than 20 abortions per year, with 91 abortions at DoD facilities occurring between 2016–2021. According to a third-party study, under the new policy, the number of abortions subsidized by taxpayers through the DoD could increase to 4,100 annually — 205 times the number of abortions performed last year.
Senator Tuberville's efforts have received strong support from conservative leaders, including Dr. Ben Carson, Founder of American Cornerstone Institute; Marjorie Dannenfelser, President of Susan B. Anthony Pro-life America; Brian Burch, President of CatholicVote.org; Tony Perkins, President of Family Research Council; Kevin Roberts, President of The Heritage Foundation; Jeanne Mancini, President of March for Life Action; Jessica Anderson, Executive Director of Heritage Action for America; Brent Bozell, Founder and President of Media Research Center; Morton Blackwell, Chairman of Conservative Leadership PAC; Dean Nelson, Executive Director of Human Coalition Action; Penny Nance, President of Concerned Women for America Legislative Action Committee; Catherine Glenn Foster, President and CEO of Americans United for Life; Ryan T. Anderson, Ph.D., President of The Ethics and Public Policy Center; Ken Blackwell, Chairman of Conservative Action Project; Mike Berry, Vice President of External Affairs of First Liberty; Star Parker, Founder and President of Center for Urban Renewal and Education; Paul Teller, Executive Director of Advancing American Freedom; David Bozell, President of For America; Elaine Donnelly, President of Center for Military Readiness; Kelly Shackelford, President/CEO of First Liberty Institute; Tom Fitton, President of Judicial Watch; Former U.S. Rep. Bob McEwen, Ohio; Diana L. Banister of Sovereign Global Solutions; John Wahl, Chairman of the Alabama GOP; Stephanie Smith, President and CEO of the Alabama Policy Institute; Kris Ullman, President of Eagle Forum; and Eunice Smith, President of Alabama Eagle Forum.
Senator Tommy Tuberville represents Alabama in the United States Senate and is a member of the Senate Armed Services, Agriculture, Veterans' Affairs, and HELP Committees.
###