"The outdated practice of changing our clocks twice a year has many more consequences than the inconvenience of running behind."
"The change would improve our health, bolster our economy, benefit our farmers, and put America on the path to a brighter future."
"It's time for America to move forward and stop falling back."
WASHINGTON — U.S. Senator Tommy Tuberville (R-AL) took to the Senate floor yesterday to speak in support of the Sunshine Protection Act, which would make Daylight Saving Time (DST) permanent. Senator Tuberville reintroduced the legislation with Senator Marco Rubio (R-FL) and a bipartisan group of colleagues to end the practice of resetting the country's clocks twice per year.
The Alabama Legislature passed a bill to permanently implement DST year-round in 2021, but legislation must first be passed at the federal level in order for the state law to take effect. In 2022, the Sunshine Protection Act passed the U.S. Senate by unanimous consent, but then-Speaker of the House Nancy Pelosi (D-CA-11) refused to bring the legislation to the floor for a vote.
Excerpts from Senator Tuberville's speech can be found below, and his full remarks can be viewed here.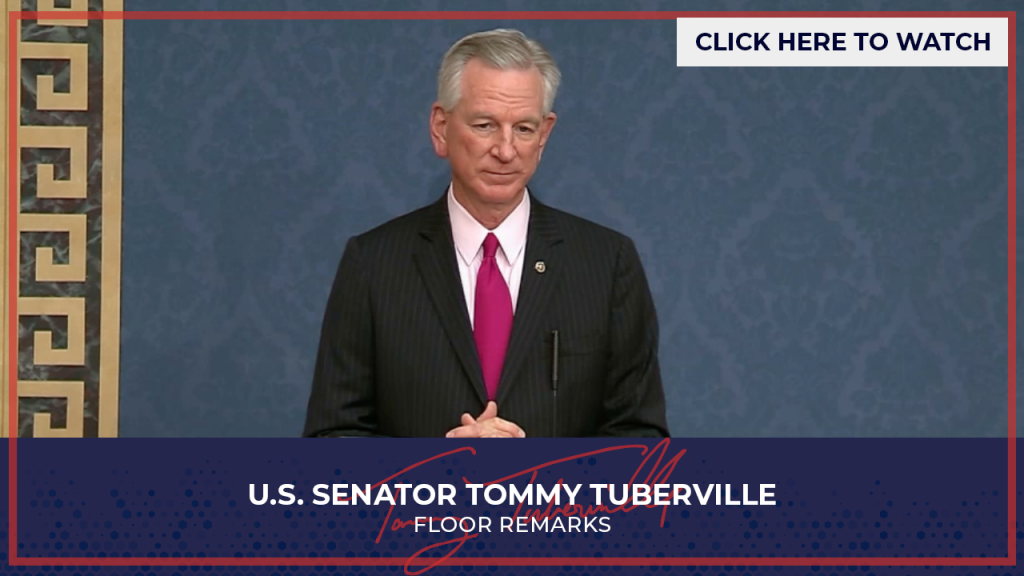 "I'm willing to bet losing that hour might have caused some of my friends back home in Alabama to have been late to church that day. But, the outdated practice of changing our clocks twice a year has many more consequences than the inconvenience of running behind. And Congress should make this year the last time we ever change our clocks by passing the Sunshine Protection Act. Over the past two years, I have received many, many calls from people across Alabama to make Daylight Savings Time permanent. Many Alabamians, including parents, seniors, farmers, citizens, mental health professionals, have all reached out to my office in support of the days with more sunshine in the evening. But not just Alabamians — millions, I mean millions of Americans are ready to end the outdated practice of springing forward and falling back. "
"The bill would provide an extra hour of sunlight in the afternoon, which would be most noticeable during the dark and cold winter months. Many studies have proven that extra sunlight in the evening can lead to improvements in mental health, physical fitness, economic growth, and overall well-being. It's a simple way we could positively impact the day-to-day life of all Americans. And finally get something done that a lot of people really care about. Shifting clocks can disrupt sleep patterns, but a permanent Daylight Savings Time will help Americans maintain a consistent sleep schedule. Studies have suggested that the disruption of sleep patterns associated with the shift in time have increased the risk of cardiovascular disease and physical injuries."
"Permanent Daylight Savings Time with extra sunlight in the evening will also encourage more physical activity, allowing more time for people to go on walks, participate in recreational activities, and attend outdoor events. Kids will be able to enjoy more time outdoors after school with friends year-round, and older Americans will have more access to Vitamin D. Longer daylight hours in the evening have been proven to stimulate economic activity as well, because people are more likely to shop, dine out, and participate in other activities. COVID lockdowns — which were very recent — COVID lockdowns, and their crippling economic effect throughout the country underscored how valuable our small businesses are, for local economies and our entire nation as a whole."
"The agriculture industry is also greatly affected by Daylight Savings Time, as more sunshine during working hours means more time to work on their crops — which could translate into [a] more profitable bottom line. It could also decrease expensive energy consumption on farms by reducing the need for artificial lighting and heating. It is estimated that the time change costs the United States economy more than $400 million in lost productivity annually."
"Congress should listen — should listen to the people and pass the Sunshine Protection Act to make Daylight Savings Time permanent before we readjust our clocks again next fall. The change would improve our health, bolster our economy, benefit our farmers, and put America on the path to a brighter future. It's time for America to move forward and stop falling back."
Senator Tommy Tuberville represents Alabama in the United States Senate and is a member of the Senate Armed Services, Agriculture, Veterans' Affairs, and HELP Committees.
###