'Since 1972, female participation in sports in college and scholarships has risen 600 percent.'
'Today, [on] the 50th anniversary of Title IX, we reflect on its impact…But, as we learned just this morning, the Biden administration is threatening to undo Title IX's progress in women's sports.'
'This is about fairness. Title IX sent the message to female athletes everywhere: you can compete, and you can win. It's up to us to preserve this fairness.'
WASHINGTON — Today, on the 50th Anniversary of Title IX's enactment,U.S. Senator Tommy Tuberville (R-AL) led a group of his colleagues in recognizing the impact of Title IX on women's sports. Passed as part of the Education Amendments Act of 1972, Title IX provided female athletes equal access to funding, facilities, and athletic scholarships as their male counterparts. The press conference comes on the heels of an announcement by the Biden administration this morning that the Department of Education is moving forward with a proposed rule to expand the definition of "sex" to include gender identity, which would force institutions to allow biological males to compete in women's sports and undo Title IX's five decades of success for female athletes. Senator Tuberville, a former coach, was joined by U.S. Senators Cindy Hyde-Smith (R-MS), Marsha Blackburn (R-TN), Cynthia Lummis (R-WY), and Senator Roger Marshall (R-KS), who is a physician.
Excerpts from the Senator's press conference remarks can be found below, and his full remarks can be found here.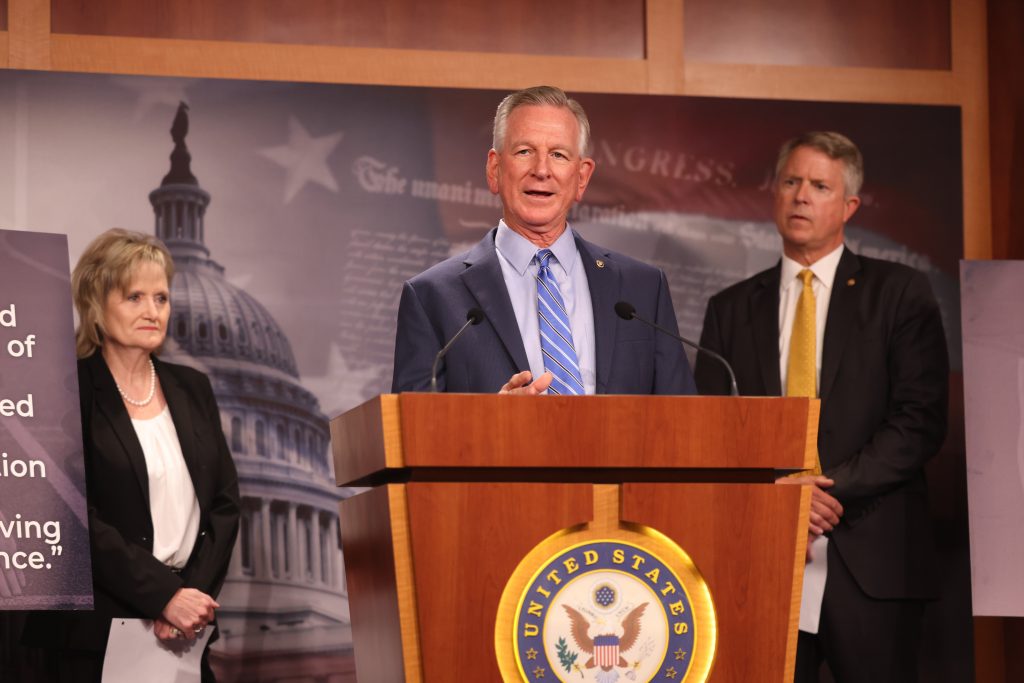 "Since 1972, female participation in sports in college and scholarships has risen 600 percent."
"Young girls were given the opportunity to earn [athletic] scholarships through hard work and dedication."
"Sports can transform lives -I've seen it many, many times."
"Today, [on] the 50th anniversary of Title IX, we reflect on its impact…But, as we learned just this morning, the Biden administration is threatening to undo Title IX's progress in women's sports… Their proposed rule would expand Title IX's definition of sex—not male and female—but it would include 'gender identity.'"
"Democrats, basically, are forcing politics onto the playing field. Allowing athletes to self-identify into a gender category erodes the gains that women have made over the past 50 years, and it ignores the biological differences between male and female athletes. That's because biological males who have gone through puberty are stronger, bigger, and faster."
"In the last four years, biological males in women's sports have won 22 championships."
"How can you give a post-game, locker room speech, of a half-time speech, to a young lady knowing that she's not competing to win, she's competing for second?"
"This is about fairness. Title IX sent the message to female athletes everywhere: you can compete, and you can win. It's up to us to preserve this fairness."
"So, in the light of what the Biden Administration just announced, in a few minutes I'll be calling up the Protection of Women and Girls in Sports Act on the floor in a live UC. We will see if Democrats will stand with me to protect women's rights."
Senator Tuberville thencalled up the Protection of Women and Girls in Sports Act for a vote on the Senate floor. Democrats blocked the bill from consideration. WATCH the Senator's floor remarks.
BACKGROUND:
Senator Tuberville spent four decades in education as an educator and coach. He began his career by coaching high school girls' basketball shortly after the enactment of Title IX. As a former coach who has witnessed the impact of Title IX firsthand, he has taken action in the U.S. Senate to ensure female athletes continue to have the access to the fair and level playing field provided by Title IX.
Last year, Senator Tuberville introduced an amendment to the federal budget that would prohibit educational institutions from receiving federal funding if they allow biological males to compete in women's sports. He also participated in conversations with former female athletes, wrote about the importance of preserving Title IX protections, spoke about the issue numerous times in the U.S. Senate, and warned the Biden administration about the pact of undoing five decades of Title IX success.
Senator Tommy Tuberville represents Alabama in the United States Senate and is a member of the Senate Armed Services, Agriculture, Veterans' Affairs, and HELP Committees.
###