"But 'not Trump' is not a strategy. It's not a policy stance. It's a reactionary and misguided posture that has plunged our nation into domestic and international disarray."
"This is an uncomfortable and inconvenient fact for President Biden."
"The President wants to run from the facts. He'd rather hide behind them and point the fingers. The facts, for him, don't fit."
WASHINGTON—U.S. Senator Tommy Tuberville (R-AL) laid out the facts surrounding some of the Biden Administration's most harmful policy decisions. Senator Tuberville highlighted three specific instances where President Biden's policies have hurt the economy and weakened national security: the chaotic Afghanistan withdrawal, the open border policies that have caused record-breaking numbers at our southwest border, and the decision to spend trillions of American taxpayers' hard-earned dollars.
Additionally, the Senator discussed the Protecting Financial Privacy Act, legislation he introduced today to proactively block President Biden's proposal for the Internal Revenue Service (IRS) to monitor every financial transaction of $600 or more made by Americans.
Excerpts from Senator Tuberville's remarks can be found below, and the full speech can be viewed here.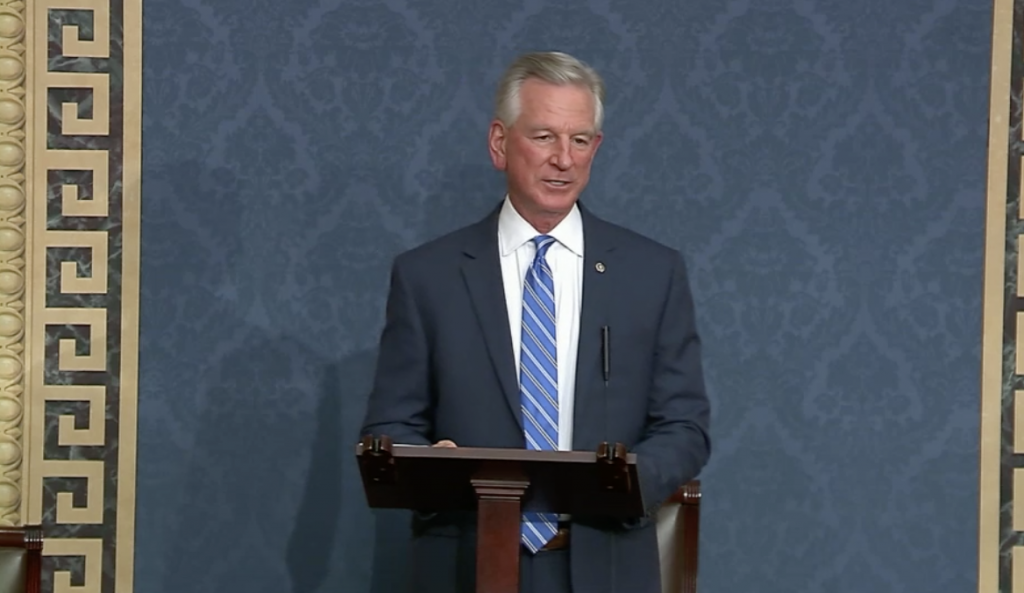 "No matter the narrative being pushed, one thing remains: the facts. The facts don't lie. The facts tell the story better than anyone."
"They are the impacts of decisions made and actions taken, whether we like it or not. But it doesn't take long for anyone to see this fact: the decisions coming out of the White House have followed one overall thought, one guiding ideology."
"It's a vision of transformation. It's a strategy of undoing everything done by the previous administration, even if those polices were successful. Since President Biden's inauguration, every executive order, every regulatory rollback, and every message of so-called unity we were once promised has been in the spirit of doing the opposite of the previous administration, with an emphasis on the woke transformation of America's founding principles."
"And Democrats don't seem too interested in the facts about the consequences of this administration's decisions, either."
"So let me lay them out. Here are some facts: The Biden administration inherited a conditions-based withdrawal strategy from Afghanistan. The idea was that we would have a withdrawal of forces that kept some boots on the ground to maintain stability and limit chaos, and importantly, preserve the progress our troops had made. Instead of continuing this conditions-based approach that would protect our servicemembers, allies, and innocent civilians, President Biden came up with a new plan."
"His decision left our troops vulnerable and resulted in the death of 13 U.S. servicemembers – the average age of these service members was 22 years old. His decision has disrespected the sacrifices of more than 800,000 U.S. veterans who bravely served during the War on Terror. His decision gave the Taliban their greatest victory to date. And made them one of the top ten most well-equipped militaries in the world, funded by the hardworking U.S. taxpayers of this country."
"His decision abandoned innocent Americans in a country governed by radical terrorists."
"The fact of the matter is, our country will be facing the consequences of President Biden's decision for decades to come. Our country was safer for the past 20 years, thanks to the bravest fighting forces in the world – our men and women in uniform. The myth from the White House is our country had no choice – that we were beholden to a deal made before January 20th. But the policy decisions made by President Biden emboldened the Taliban, endangered Americans, and encouraged our adversaries."
"From abroad to right here at our own southwest border, we're witnessing the disastrous effects of the Biden presidency play out in epic proportions. The numbers do not lie. In July and August, apprehensions at the southern border surpassed 200,000 each month. That's quadruple the amount from this time last year. In fact, we've seen record breaking numbers of illegal immigrants at our southwest border from the day President Biden was inaugurated. Over 1.3 million people have been apprehended trying to illegally cross our southwest border. "
"And fact: All of this is a direct result of President Biden's open border policies – a reversal from those of the previous administration. This is a prime example of the Biden administration putting politics over policy."
"After months of avoiding the word 'crisis' to describe the border, President recently said, 'We will get the border under control.' To even say he will get the border under control means he acknowledges that it is not under control. Well, I guess that is one fact that hopefully we can all come to agreement on. The facts that Democrats seem to want to ignore most are those that deal with our economy. The separation from fact to fiction for our friends across the aisle could not be starker than when it comes to the American economy."
"It is a fact that inflation is sky high – as high as it's been since 2010."
"Despite rising inflation and increasing prices, the president is still marching forward with his vision of a big government welfare state, enacted through the Democrats' reckless tax and spend spree."
"President Biden's America is one where our businesses and job creators pay for all. That's not 'pay your fair share' that's wealth [re]distribution."
"No work requirements, just complete government dependency."
"The programs laid out in the Democrats' reckless tax and spend spree are a transparent effort at a woke transformation of the values and culture on which our country was built. If that wasn't bad enough, they're going to raise taxes to pay for them – picking from a menu of more than 30 new taxes."
"The Biden Administration wants to require financial institutions to report account balances and transactions greater than $600 made by Americans to the Internal Revenue Service. Any transaction you make over $600 will be reported to the IRS…Today, only transactions over $10,000 – which is a lot of money – are reported."
"You got a rent payment over $600? Planning to buy an airplane ticket over $600? How about a new hunting rifle? A wedding dress for your daughter? All of it – any transaction over $600 – would be sent to the IRS under President Biden's plan. This is big brother government at its worst."
"The IRS is intrusive enough as it is. This is something Americans of all political stripes should agree on. Not only would the IRS be looking over Americans' shoulders, but this would place a heavy burden on community banks [and] credit unions that play a key role in providing financial services to rural and minority communities."
"This is one of the most outrageous proposals coming from the Biden administration – and there have been a lot of them over the past nine months."
"So today, I introduced a bill – called the Protecting Financial Privacy Act – that would proactively prohibit this."
"My bill prohibits any federal agency from creating, implementing, or administering a financial account information reporting regime that would require financial institutions or individuals to report data on financial transactions or account balances to the IRS, in excess of what is already required by the Bank Secrecy Act."
"The last thing Americans want – or need – is big brother looking over their shoulder."
"The President wants to run from the facts. He'd rather hide behind them and point fingers. The facts, for him, don't fit."
"It's time for the President to face the facts and listen to the American people."
"Especially when the facts couldn't be clearer."
Senator Tommy Tuberville represents Alabama in the United States Senate and is a member of the Senate Armed Services, Agriculture, Veterans' Affairs, and HELP Committees.
###